September 23, 2008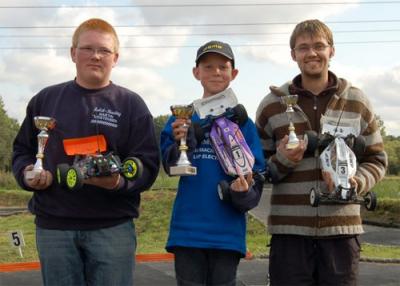 We received an extensive report from the final race of the electric off road Nationals that was held by Odense RC Mini Race. The club had created the perfect setting for the end of a season which had been exciting and intense in all classes and last but not least, was also helped by great late summer weather, which is actually quite incredible that there has been no rain for the races this year despite it being a rainy summer. Friday arrival most of the drivers and took part in the free practice which continued until Saturday noon when the first heat of five round of qualification was kicked off.
Continue reading…
Stock
Martin Kristensen had been pressured throughout the season by Jesper Rasmussen and this continued in the first round of qualifying, Martin was beaten by Jesper who was on home ground. Jesper was only 0.18 seconds from running 15 laps in the first round and debutant Sævar Skovsted surprising everyone by running the third fastest time. Sebastian Sorensen could not find the melody in the first round and could not follow up the pace in front. In the second round saw Jesper a phantom time with 15 laps 16.80 seconds, Martin made a 14 laps 8.95 sec. and Jesper was on its way to pole position, again was Sævar doing well and ended 10 seconds after Martin. Soren M. Larsen finished in fourth place. In the third round, Martin had a much better round and the lead changed several times through the heat between Martin and Jesper, Jesper stayed cool and won the third round in a new 15 laps 15.84 and Martin was just under the wing of Jespers car in time 15 16.51 laps. Again we saw Sævar Skovsted in third place on 14 laps 15.45 seconds followed by Sebastian Sorensen who drove 14 laps 19.56 seconds. In the fourth round put Martin the fastest time in the Stock class with 15 laps 14.84 and Jesper was referred to second place and Sævar improved his time for 14 laps 9.72 sec. and again Sebastian came in fourth place. In the fifth and last round, there were no big surprises and ended as follows Jesper, Martin and Sævar.
Qualification results – Stock
1. Jesper Rasmussen
2. Martin Kristensen
3. Sævar Skovsted
4. Sebastian Sørensen
5. Soren M. Larsen
6. Monique Williams
7. Claus Breiner
2WD
Jonas Kærup showed in the first round qualifying round who is fastest in 2WD class and drove 17 laps 5.35 sec. and Lars Alex ended up with a 17 laps in 10.53 seconds followed by Christer Rasmussen. Jonas continued in the second round to put the absolute best time and was again followed by Alex and Lars Christer. In the third round Christer gained a good time with his B4 and drove 17 laps 9.19 sec. Again put Jonas trump and ran 17 laps 7.17 sec. and Lars Alex ended as third. Jonas had secured pole, but this hold him back and won the fourth round, followed by Christer and Martin Søndergaard. In the fifth round Jonas again occupied first place and Lars Alex was in second place and with Rene Jespersen in third. Lars Alex made it almost impossible in the first and fifth qualifying round by putting exactly the same time in these two rounds, Lars ran 17 laps 10.53 seconds in these two rounds.
Qualification results – 2WD
1. Jonas Kærup
2. Lars Alex
3. Christer Rasmussen
4. Martin Søndergaard
5. Thomas Mikkelsen
6. Rene Jespersen
7. Lars Kristensen
8. Kim Nielsen
4WD
Championship leader Kim Nielsen started the first qualifying round with the fastest time with 17 lap 16.65 and was followed by Ulrich Rasmussen and Torben Nielsen, but in fact it was Jan Larsen who ran the second fastest time, but a transpondertroubles put him further down the rows. Ulrich Rasmussen was returned to his Kyosho and could put the fastest time in the second round with 17 lap 10.58 and Jan Larsen finished with 17 lap 13.31 and Kim Nielsen as third. In third round was again Kim Nielsen in the fast lane and Jan Larsen in second and Ulrich Rasmussen in third, Torben Nielsen was the best of the rest in fourth position and could not quite follow the trio's pace. In the fourth round was Ulrich again put a fastest time with a 17 lap 10.08 and Kim had to be retire after 9 laps with a defect, it put Jan Larsen in to second place and his time was 17 laps 17.87 and Torben Nielsen ran his best time in the 16 lap. 9.88. In the fifth round had Pole position to be located between Kim and Ulrich and Kim started off well and had good pace in the lead and Ulrich hung on well, but at four minute mark Kim made two errors and Ulrich took over the lead and secured Pole with Kim in second position and Jan Larsen in third and Torben Nielsen in fourth and surprisingly it was that Freddy Nielsen drove in the A-finals in seventh place.
Qualification results – 4WD
1. Ulrich Rasmussen
2. Kim Nielsen
3. Jan Larsen
4. Torben Nielsen
5. Konrad Berger
6. Christian Williams
7. Freddy Nielsen
8. Allan Thyme
After the qualifying heats was over a Vintage race was held.
Start List for Vintage race.
Peter Stein – RC10 TeamCar with aluminum bottom
Jesper Rasmussen-Tamiya Frog
Niels Laursen – Schumacher ProCat
Ulrich Rasmussen – Schumacher Cat XLS
John B. Madsen – Grasshopper with 12 turns engine
Per Eriksen – Traxxas TRX-1
The vintage race was held like in old days with all cars on the same start line and full throttle and hope to get down safely in the first turn. And a safe start, it was not, Niels Laursen Procat went completely across the start and hit Ulrich car, in the meanwhile was Peter Stein and Jesper Rasmussen got away. It was fantastic to see these vintage cars and hear the noise from the tires without tire inserts. Ulrich had to fight a lot with his the car to keep it on track, the was mounted with old 4 row Schumacher tires that not suits the carpet track well. Peter Stein had a comfortable lead in front and although Ulrich was figthing the best he could, it was not enough to come up to Peter.
After the actual heat had the club's kitchen staff headed by Ann prepared for a delicious barbecue evening with a menu consisting of sausages, chicken, beef, creamy potato and salad buffet.
Sunday began with a round final pratice for all finals and many spent only the round to prepare for the finals because the track was damp throughout the morning and then Stock drivers put their cars on the track it was still damp in several places. Jonas Kærup was not able to participate in Sunday's finals and his pole position was empty all through finals. And Peter Stein had to announce cancellation of Sunday's finals when there was sickness at home and he had to be home and take care of the kids.
Stock finals
With Pole position and a victory in the finals training was self-confidence in the top of Jesper before the start of the first A-finals. The start was kicked off it was Jesper who came off best with Martin just after and Jesper and Martin had quickly developed a nice gap to the field, at lap four rolled Jespers car in turns 1 and Martin could take over the lead and now was Jesper was in the process of regaining lost ground, but Jesper was unlucky again and his car rolled again on the way out on the strait away and Martin cross the finishline in first place ahead of Jesper in second place and Sævar Skovsted and Sebastian Sorensen in following order.
Second leg of A-final started just as exciting as the first, Martin pushed it best he could to get past Jesper, but at the large tablejump they hit each other and one of the camberlinks pops off on Martin's car and crash put Sævar into the lead, but he could not keep Jesper behind and Jesper was crossing the finish line in first place and Sævar finished in second place, followed by Sebastian Sorensen. Monqiue ran really nice in this finale ended as six could hold Claus Breiner behind and both running 11 laps.
In the last final were full concentration from Martin and Jesper, they would both want to win this race and with a victory to both in the two previous finals it was wide open. And when the start signal sounds the cars blow away and their car was like pearls on a string, in the last minute was Martin overtaken Jesper and turn 1 and 2 were close battle and the lead changed over the next couple of turns, Martin tried to get inside of Jesper in turn 3 and hit left rear wheel on  Jespers car and Martin's car came off track and came over barrier and lost time and Jesper could get a little air down to Martin but not long since Martin pushing as hard he could and then drove the finish line, there was 0.6 seconds between the young drivers. Sævar ended as third spot and Sebastian in fourth.
Overall race results
1. Jesper Rasmussen – Kyosho ZX5
2. Martin Kristensen – BJ4
3. Sævar Kristensen – B4
4. Sebastian Sorensen – Tamiya
5. Soren M. Larsen – B4
6. Claus Breiner – Kyosho ZX5
7. Monquie Williams – BJ4
2WD finals
In Jonas' absence in the finals, it was Alex and Lars Christer favorites to win the finals and the first finals could see one of the best performances from Christer´s hand, I have seen for a long time. Lars Alex lies in front from the start and Christer get not the best start and was in fourth position for a while and with a very fast overtaking he could catch up Lars Alex and he could not keep Christer behind and Christer could cross the finishline in the lead, Lars Alex finish in second place, followed by Thomas Mikkelsen and Martin Søndergaard.
In the second finals Lars Alex has more speed in the car and keep the lead from start to finish and Christer have trouble with finding the right speed at double jump and made a few mistakes there, and this put Thomas Mikkelsen in second place.
Third finals will be again a "walk-over" for Lars Alex and again must Christer thanks for second place, this time followed by Martin Søndergaard and Thomas Mikkelsen.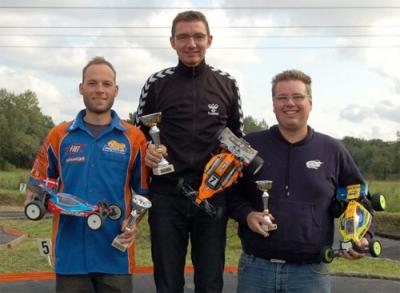 Overall race results
1. Lars Alex – B4
2. Christer Rasmussen – B4
3. Thomas Mikkelsen – B4
4. Martin Søndergaard – B4
5. Rene Jespersen – B4
6. Lars Kristensen – B4
7. Kim Nielsen – Losi XXX
8. John Madsen – B4
9. Kim Falck – B4
10. Jonas Kærup – B4
4WD Finals
The qualification was the ultimate proof that the finals would be very exciting and that running errors would be punished promptly. When start signal sounds Ulrich, Kim and Jan was pull away in this order, at second lap Ulrich made a mistake at the double jump and Kim took over the lead and Jan Larsen moved up to second place and Ulrich was referred to third spot, this runningorder kept to the finishing line, where Torben Nielsen was in fourth and Allan Thyme drove from starting position eight to fifth place.
In the second final is was again a clean start with Ulrich in front, followed by Kim and Jan, once again had to Ulrich give the lead to Kim and after a few laps could Jan Larsen overtake Ulrich, who after the finals complained over his damper on his Kyosho there was very difficult to get over jumps and it was also clear that there something wrong when the car landed. Christian Williams was in this final to find in fourth place, followed by Torben Nielsen.
In the third final had second pace place to be found between Jan Larsen and Ulrich Rasmussen and the outcome could also affect the overall championship result between Jan Larsen and Ulrich Rasmussen. Kim Nielsen had a disastrous first lap and it gave free run to Ulrich in the lead, unlucky his car rolled at the corner before the straits away and so was Jan new man in the lead and Jan held this position to the end and Ulrich was in second place followed by Kim Nielsen and Torben Nielsen.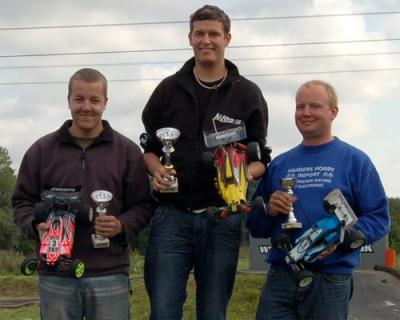 Race Result 4WD
1. Kim Nielsen – Losi XX4WE
2. Jan Larsen – BJ4
3. Ulrich Rasmussen – Kyosho ZX5
4. Torben Nielsen – Kyosho ZX5
5. Christian Williams – BJ4
6. Allan Thyme – Losi XX4WE
7. Freddy Nielsen – Losi XX4WE
8. Konrad Berger – BJ4
Overall performance in DRCMU Off-Road championship.
Stock
1. Jesper Rasmussen – 210 points
2. Martin Kristensen – 207 points
3. Sebastian Sorensen – 194 points
2WD
1. Lars Alex – 207 points
2. Christer Rasmussen – 198 points
3. Lars Kristensen – 189 points
4WD
1. Kim Nielsen – 207 points
2. Jan Larsen – 200 points
3. Ulrich Rasmussen – 200 points
Point similarity in the 4WD were resolved, according to the regulations, which had to count victories, Ulrich and Jan had one each, then it came to second places here had Jan one more than Ulrich and Jan could secure second place in the Championship.
Source: Race Gallery [racegallery.dk]
---