September 18, 2008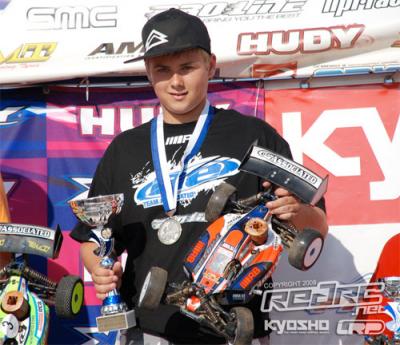 Following the surprise move by top young British Associated driver, and European Junior Champion (above), to Xray, Team Associated representative Craig Drescher has issued the following statement regarding the move.
Team Associated would like to announce and explain the mutual departure of Elliot Boots from Team Associated/CML. Elliot started with Team Associated at the beginning of the production RC8 project and greatly assisted Team Associated and CML in testing, promoting and supporting Associated's first venture in to the 1/8th scale market.  As with all new projects there were vehicle, electrical and engine problems that skewed results and caused frustration for young Elliot in the late 2007 and early 2008 seasons.
Continue reading…
Over this time Elliott and his father learned about the car and experienced success at the top levels including winning the European Junior Title.  Recently, more electrical and maintenance problems have surfaced and tension among the parties have risen.  Due to this it was mutually agreed upon by all parties to terminate Elliot's contract early and allow both Elliot and Team Associated/CML to pursue different options.

I'd like to thank Elliot  for his support, albeit short lived, and wish him all the best for the future with whatever route he decides to take. Good luck.

Kind regards,
Craig Drescher, Team Associated European Representative.
---