September 24, 2008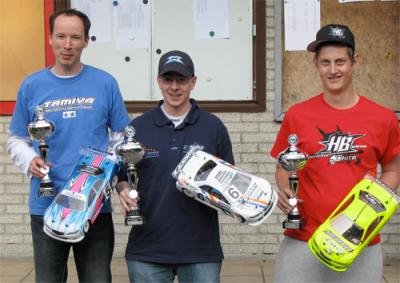 The final race of the Dutch nationals were held on the huge track of M.A.C. Rucphen last weekend. This time the event was only for the stock division because of a delivery failure at the beginning from the season that caused the cancellation of the round for the stock guys. The race only saw 25 competitors take part and after qualifying it was Serpent driver Ronald Arts that took the TQ spot in front of Vasco Christiaanse in 2nd and Corally driver Mario Teakema in 3rd.
Continue reading…
In the first final Vasco was able to put pressure on Ronald and force him to go wide taking the leading spot in the final. Ronalds car was very fast on the straight so Vasco had to work hard to keep Ronald behind and despite it being a very close race, he managed to hold on to take the win from Ronald in 2nd and Xray racer Frans Heinsbroek in 3rd.
After a few laps into the 2nd final Vasco tried once more to take over Ronalds leading position but this time the Serpent driver defended his position a little too well and both drivers crashed. Vasco was able to pull all the way back to 5th place but Ronald had to retire. Frans Heinsbroek took advantage of this chaos at the front and took the 1st spot after the crash, holding on to the position all the way to the end.
With a 3rd and a 1st place Frans took the win, with Vasco in 2nd place and Tamiya driver Michael Lepelaar rounding out the poduim with 3rd place. With this result Vasco was able to wrap up the 2008 Stock title for Hot Bodies.
Final results:
1. Frans Heinsbroek Xray T2 008
2. Vasco Christiaanse HB Cyclone
3. Michael Lepelaar Tamiya 416
4. Erik Germeraad Xray T2
5. Ronald Arts Serpent S400
6. Jitse Miedema Xray T2 007
7. Jetze Reitsma Xray T2
8. Ron Lankreijer Xray T2
9. Mario Taekema Corally PHI
10. Richard Oversloot Xray T2 008
Thanks to Vasco Christiaanse for the report.
---