September 10, 2008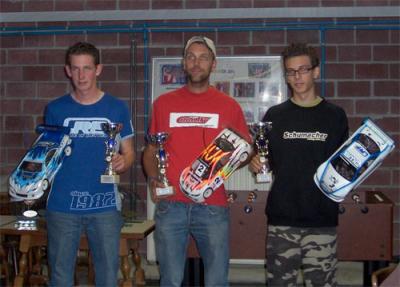 For the last race of the 2008 Belgian touring car championships the series went to Roeselare, a great track and especially very fast but the weather forecast was not very good. On Saturday everybody could drive under good weather, even the sun was there but Sunday, was a disaster weather wise. Everybody had to water proof their car and because of the weather there was on fifteen drivers competing. In the EFRA class it was Demsey Jacob who took the pole, in front of Patrick Jespers in 2nd while 3rd spot went to Gerrit Van Swijgenhoven.
Continue reading…
The first final seemed to be a one-man show with Demsey far out in the lead, but suddenly his motor broke and this allowed Patrick to take 1st place and keep it till the finish. There was a good battle behind Patrick between Nick Joosens and Olivier Bultynck but it was Nick who took 2nd and Olivier 3rd place. Just before the second finale there was terrible weather but the finals continued and it was a great fight between Demsey, Patrick and Gerrit but Patrick was outstanding and took the win with Gerrit just behind in 2nd place with Demsey in 3rd. The last final there was a hard crash between Patrick and Gerrit and both racers had to retire. Demsey won from Giovanni Martens with Nick Joosens in 3rd. The overall standings saw the win go to Patrick Jespers, with Demsey Jacob in 2nd place and Nick Joosens in 3rd.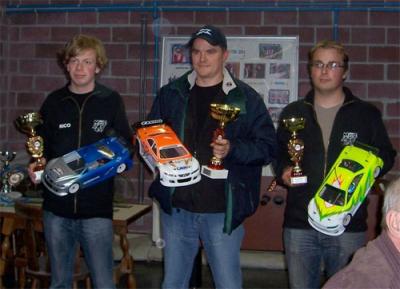 In the Superstock class was new champion Urbain Swijsen the first victim of the weather having to retire in the qualifications and this left Rico Claeys to take the pole in front of Thomas Stockman and Pascal Santy. In the first final there was a few leaders but it was Michel Mahieu, at his home track, who took the win in front of Stephan Roufosse and Rico Claeys. The second final was with very wet and Thomas Stockman was the best in the conditions to take the leg win from Pascal Santy and Stephan Roufosse.  The third and last final would decide who was the overall winner. Rico Claeys started quickly and the rest couldn't follow and so he took the win with Stephan Roufosse in 2nd and Andy Vandenborre in 3rd. The overall went to Stephan Roufosse with Rico Claeys 2nd and Thomas Stockman as 3rd.
Source: Swingman [swingman1962.googlepages.com]
---