September 15, 2008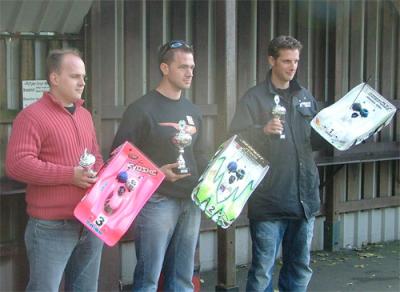 The 5th round of the Dutch 1/8th scale nationals was just held in Gouda, a very tight and small track in the centre of the Netherlands. The weather on Saturday was a bit disappointing, because of rain the practice was reduced to only 2 hours in the afternoon. On Sunday the weather was a lot more forgiving and the sun was shining but still a bit cold because of the wind, but this was good for fuel consumption. Qualifying saw Mugen racer Rick V take the pole position ahead of Serpent racer John Ermen in 2nd, with Rik Veenma and Miquel Hereijgers rounding out the top 4. After some semi final action Ilia van Gastel and Daniel van der Drift, who both experienced some difficulties during qualifying, also lined up in the final together with Joey Sorber, Peter Ceysens, Marcel Schouten and Arie Manten.
Continue reading…
At the start everyone had a clean getaway and Rick and John were able to pull away from the rest of the field and after 4 laps the leading pair had a gap of about half a lap back to the chasing pack. On lap 5 Rick made a mistake at the beginning of the straight which allowed Ermen through to take the lead together with a gap of about half a lap. After 20 minutes of action John started to slow due to tire wear, and combined with slightly slower pit stops than Rick V, meant the Mugen driver was catching fast and in the last 5 minutes he was he was right on his tail. After 2 laps of defensive driving from the leader, he was hit from behind and this spun him around but Rick slowed and let John back into the lead. With 2 minutes to go the front pair were still nose to tail when Rick made a mistake, once more entering the straight, and this meant John could cruise to the win, with Rick recovering to stay in 2nd and Ilia van Gastel taking 3rd.
1. John Ermen – Serpent/Novarossi/Tornado
2. Rick Vrielijnck – Mugen/JP
3. Ilia van Gastel – Kyosho/Orion
4. Daniel van der Drift – Motonica/Novarossi
5. Marcel Schouten – Mugen/JP
6. Arie Manten – Mugen/JP
7. Peter Ceyssens – Mugen/Picco
8. Joey Sorber – Serpent/Mega
9. Rik Veenma – Mugen/Picco
10. Miquel Hereijgers – Serpent/Novarossi
Thanks to John Ermen for the report.
---