September 5, 2008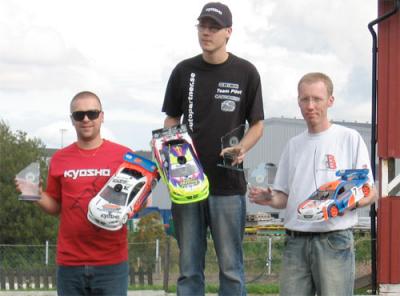 Last weekend the battle for the Swedish Championship  in 1/8IC and 1/10NT classes took place at the beautiful track at Väst-8 in Gothenburg. 4 qualifying rounds were completed on Saturday in nice, sunny and warm weather and this must have been one of the closest battle for years to make the 4-top qualify places. In 1/10 class it was just 1.2 second separating the first 4 drivers, with Roland Ström/Kyosho took the TQ spot by 0.005 second before his team mate Magnus Vässmar with Tommy Bergfeldt and Edwin Sunesson completing the top 4. The battle in 1/8 class was almost as tight as in 1/10 with Mikael Fransson/Mugen setting the pace and was TQ a couple of seconds before Marcus Lindner, Bengt Andersson and Mattias Ericsson. The difference between second placed and 5th place was only 1.5 seconds.
Continue reading…
All the finals where scheduled for Sunday and the conditions was the same as on Saturday with sunny skies. First out was the 1/10 final. Early in the final Roland Ström run into problems when the long belt got loose. Even though it was quickly fixed by his mechanics he dropped from 1st to 4th place. Magnus Vässmar took over the lead and drove a steady race. Per-Ola Hård/Serpent could take advantage of the situation and managed to take over second place almost to the end.  Roland Ström did drive some really fast laps to try and make up the problems in beginning of the race and set a new track record for 1/10 scale. In the end it was Magnus Vässmar/Kyosho  who was crowned the new Swedish Champion followed by Roland Ström/Kyosho  and Per-Ola Hård/Serpent in 3rd place. It was also nice to see some young hot-shots making the A-final and driving really good. Drivers like Edwin Suneson, Ola Westholm, Markus Hellqvist was driving really well so the "old" guys have to watch their backs in the future.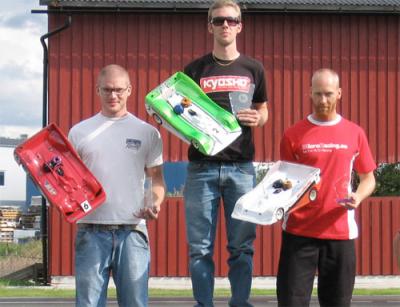 The 1/8 final was an exciting race where drivers had opted for different strategies due to fuel consumption and tire change. Mikael Fransson was fast but run into engine problems already after 5 minutes and he dropped down. He later rejoined but could not battle for the lead. Marcus Lindner took over the lead but run out of fuel just before 10 minute mark. Luckily this was just at pit entry and could rejoin the race in 2nd place. Bengt Andersson had taken over the lead and was driving well but mid way thru the final Bengt Anderssons engine stopped due to a faulty glow plug. Marcus Lindner was able to capitalize on this and took over the lead. Mikael Bengtsson/Mugen and Lars Haugen/Mugen where driving a steady race and was coming up from behind and to claim 2nd and 3rd places. When the checker flag was out Marcus Lindner was able to win the race and take his first Swedish Champion title in 1:8 IC with his GRP powered Kyosho M3.
Thanks to Wolfgang Lindner for the report & pics.
---