September 9, 2008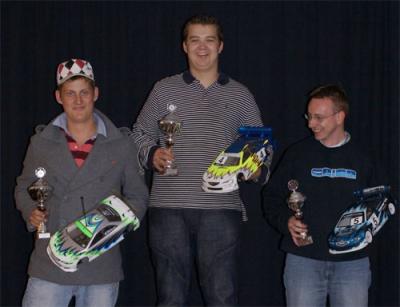 We received a report from last weekends Dutch Touring car Nationals that were held on the AMCA track in Apeldoorn. This race played host to the final round of the modified class championship and the 5th round of the stock class. The forecast for Sunday's wasn't expected to be great, but it was to be dry in the morning and rainy later on. The stock division had one dry qualification run, and in that run we saw Frans Heinsbroek take the TQ in front of local ace Daan Schennink and Michael Lepelaar.
Continue reading…
The first final was very very wet and in the first lap Vasco Christiaanse had an accident and fell back to 10th place. Thanks to a good handling car Vasco was able to get back up to first and take the win ahead of Richard Oversloot and Frans Heinsbroek. The second final was on a half dry, half wet track, and so was very very slippery. This final was won by Richard Oversloot with Vasco coming from 8th on the grid to take 2nd just ahead of local racer Ronald Arts who took the 3rd place. Despite Richard and Vasco both having 3 points in the total scoring, due to Richards better qualification he took the overall win in front of Vasco in 2nd and Frans Heinsbroek in 3rd.
Stock Overall results:
1. Richard Oversloot
2. Vasco Christiaanse
3. Frans Heinsbroek
4. Jan Kraanen
5. Ronald Arts
6. Joop Voorn
7. Erik Germeraad
8. Michael Lepelaar
9. Daan Schennink
10. Tjitse Miedema
The modified class didn't have any dry qualification and after some wet qualifiers we saw local hero Rob Jansen that took the TQ in front of Patrick Jongenelis in 2nd and Chris vd Hagen in 3rd. In the first final Rob lost his 1st position in the first corner because he didn't have any traction but he managed to make his way back to the first place and hold on to take the win in the first main. Alexander Roeleveld took the 2nd place in front of Local ace Hugo vd Berg. In the second final Rob had a much better start and managed to lead the race from start to finish in front  of Hugo vd Berg and Patrick Jongenelis. Hugo secured his 2nd overall position by finishing 2nd in this main.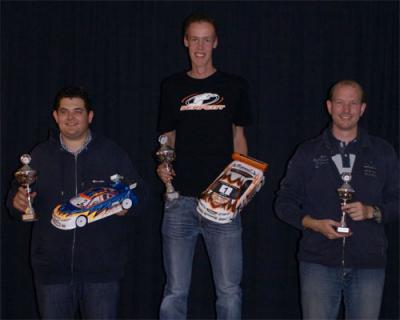 Modified Overall results:
1. Rob Jansen
2. Hugo vd Berg
3. Alexander Roeleveld
4. Chris vd Hagen
5. Patrick Jongenelis
6. Jorrit Derksen
7. Stefan Jansen
8. Joep Willemsen
9. Wesley v Dijken
10. Edwin Neijenhoff
Thanks to Vasco Christiaanse for the report.
---