September 23, 2008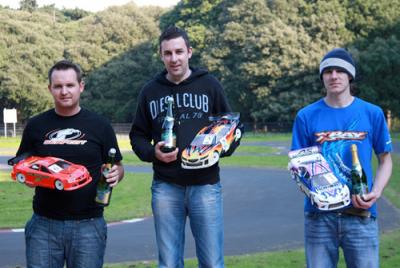 Ireland's 190mm EP Touring Car National Championship made a very welcome return to the large St.Annes track, located on the outskirts of the Irish capital of Dublin, where Stephen Hill took a surprise victory in the sunny conditions from Graham Kenny and Keith Dempsey. In qualifying for the second round of the Garmin/Sqeez backed Irish Touring Car Series it was Round 1 winner Alan Bickerstaff who set the pace. The Team Associated driver was the only one of the 25 strong entry to record 17 laps taking TQ ahead of Hill with brothers Graham and Scott Kenny securing row two on the grid.
Continue reading…
In the first of the 2 leg finals Bickerstaff was quick to pull away up front but a rare mistake by the Northern Ireland driver saw him hand the lead to Graham Kenny however he too made a mistake catching a kerb.  This promoted Hill into lead which he would hold till the end to win from Team Serpent Ireland driver Keith Dempsey. Unfortunately things got worse for Bickerstaff after his error as his car shutdown with a minute and a half still to run meaning he was classified last.
Obviously fired up following his woes in Leg 1, Bickerstaff destroyed the field in Leg 2 setting the fastest lap of the race by almost 4/10th of a second to take the win by 5 seconds from Hill who took the overall victory for Round 2. Third in Leg 2 gave Dempsey second overall while Graham Kenny took third which sees him go into the joint lead of the standings with Bickerstaff. The inaugural ITCS title will be decided at the 3rd and final round on October 26 at the indoor tarmac track of the Fermoy Model Car Club.
A Final Overall Results
1. (2) Stephen Hill – 3 [ 1 2]
2. (6) Keith Dempsey – 5 [ 2 3]
3. (3) Graham Kenny – 7 [ 3 4]
4. (1) Alan Bickerstaff – 9 [ 8 1]
5. (4) Scott Kenny – 10 [ 4 6]
6. (5) Jonathan Dunn – 11 [ 6 5]
7. (7) Andrew Rennick – 13 [ 5 8]
8. (8) Graeme Nelson – 14 [ 7 7]
Source: Hobbies Ireland [hobbiesireland.ie]
---