September 3, 2008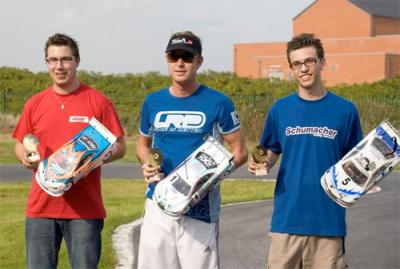 The fifth race of the Belgian 1/10th scale EP Touring car Championships took place recently at the Charleroi track under the organisation of the SCRF.  We had 30 entries in two classes, twelve in the Efra class and eighteen in the Superstock class. In the Efra class it was Benoit Thomaes who take the pole in front of a surprising Gerrit Van Swijgenhoven who had traded his Corally for a Tamiya 416, while in third spot was Olivier Bultynck, in front of his teammate Patrick Jespers.
Continue reading…
The first final we saw a close battle with four to five cars for the first places. But it was Benoit Thomaes who kept the lead and took his first win of the day. Behind him it was good old Patrick Jespers in second, Nick Joosens in third and Olivier Bultynck in fourth. The second final was a copy of the first one, with Benoit Thomaes in front, just behind him Olivier Bultynck, who tried a few times to take the lead and Patrick Jespers and Nick Joosens close behind. Benoit held the lead till the finish and became the new Belgian Champion 2008. Olivier finished second and Nick took his car to third spot in front of Patrick Jespers. The third final was not started yet and Benoit had some troubles and didn't start. Gerrit started well this time and took the lead with Olivier was right behind him but had enough with the second place. For the third place there was a battle between Nick Joosens, Demsey Jacob and Patrick Jespers who made a little mistake. Gerrit won the third final just in front of Olivier and Nick came through as third.  In the overall it was Benoit Thomaes who won, Olivier Bultynck as second and Nick Joosens on the third spot.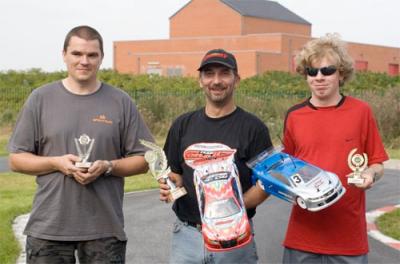 The Superstock was also a fantastic race with Urbain Swijsen on pole and Stephan Roufosse in second place, Rico Claeys on the third spot with Rik Brouwer behind him. Urbain and Stephan had a nice battle for the first place but it was Urbain who had the best nerves. Stephan finished in second with Rico in third. The second final begun with a little fight between Urbain and Stephan. Rico took first place and he was gone. We saw also Nick Logie who came from behind and finished in third place. Urbain had bad luck and didn't finished. In the third final was Urbain in the lead and run away from the rest. Stephan fight back but couldn't follow Urbain and make some mistakes. Rico took second place in front of a new driver Nick Logie. The overall was Urbain Swijsen first, Rico Claeys second and Stephan Roufosse third place. So took Urbain Swijsen the Belgian title in the Superstock for 2008.
Source: Swingman [swingman1962.googlepages.com]
---