October 25, 2008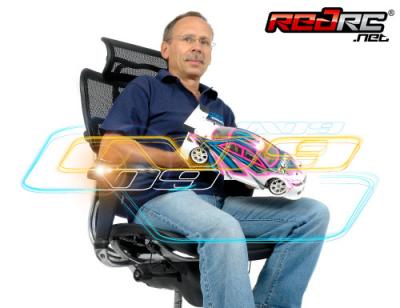 Following the rumors last weekend that Team XRAY was seen testing their T2'009 chassis at the World's track in Bangkok, we contacted the Slovakian manufacturer for comment. They agreed to a full interview and so we posed a few questions to chief designer Juraj Hudy who confirms that the team are in fact running the T2'009 and talks openly about the new car
Read the full interview here…
Q: Well, I guess the first question would be whether you wish to confirm or deny that your team was running next year's chassis in Bangkok?
A: Our team is constantly working on and testing further improvements and refinements of parts and ideas. The World Championship is of course the most important race and all factory teams work very hard to prepare their "best of the best." As such we have worked also as hard — or even harder — to test a large amount of different things at the World's track. The team was very successful at the warm-up race at the TITC with Teemu Leino winning the race; from that point onward we made a lot of progress on the 2009 car with very specific tests done at the Worlds track. So to answer your question… yes, we were running the 2009 car at the private warm-up.
Q. Is it safe to presume that because you are using this car at the World's track, that this will be the car you will run at this race?
A. In the last months we did a lot of testing around drivetrain and weight distribution. We tested numerous different motor positions which have great influence on the weight balance (and ultimately the car's performance) but I got a lot of mixed feedback. In some conditions the different motor position was significantly better, while under other conditions the car was actually worse. Of course my goal is to provide to our customers only those improvements which will benefit everybody for most racing conditions. But in some cases, like the World's, you have to prepare the team and cars for those particular specific conditions. The more different stuff we tested, the more we were convinced to return to the original stuff. After the week of testing we basically returned to where we were early this year, of course talking about the concept of the car as such. We improved plenty of "invisible" details especially on tolerances and materials. The new lightweight parts, which are going into the shops these days, were originally tested and used at the World's warm-up with great results and as such we made these products as standard parts.
Q: You must be confident that this car is a big improvement considering how dominant Teemu was at the TITC earlier this year on the same track, proving that the current car is already very strong.
A: This is the funny part of our hard work during this year. The T2′008 has been such a great car — being confirmed by winning the unofficial World's warm-up at TITC, the US Nationals, and plenty other big international races — so we had really a hard time to make the car even better. As I mentioned earlier, we had a couple of different ideas that we tested out but in most cases we returned to the standard car. The real challenge for me was to keep always in mind that the World's is a one-of-a-kind race and despite our wanting to have the best car ready for this race, we needed to be certain that the final car we would have at the end would meet the needs of all customers and not just factory drivers.  So to return to your question, yes, we worked very hard to make the car even better but in the end we were really working more around optimization, focusing on fine details and reducing drivetrain mass.
At the warm-up race at the TITC we were using the 5-cell batteries but the rules for the World Championship states 6-cells and as such we had to adapt during development and testing of the car to the 6-cell specifications. As such we needed to ensure that the new car will have the best handling and optimized weight balance for not only 5-cell but also for 6-cell batteries as well for the Lipo batteries.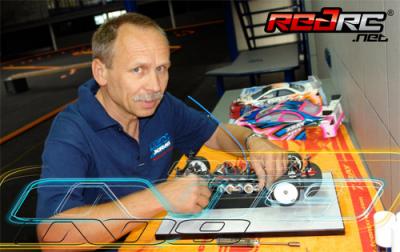 Q: Can you tell us a little bit about the new car?
A: The biggest challenge for me this time was to decide what we do next for 2009. Touring car design are for the most part at a mature stage so there is not much you do to improve the current crop of touring cars in the market nowadays. The T2′008 has been an absolutely perfect car and there was not much we could do to improve it, but improve it we did! Of course you can always change things to make the car better for one track or a particular racing condition, but we needed to make a car that would work for every customer, whether using rubber or foam tires, modified/stock/brushless motor, and regular or LiPo batteries. Therefore the 2009 car is considered to be the continued evolution. The touring car market has again changed over the year, with stock drivers needing different ratios. LiPos are also turning the market upside-down and with wide-open rules on sizes and capacities it makes it really difficult for a car designer to adapt the car as you do not know what new batteries will come out tomorrow or the next day. As such the new car will have a more optimized drivetrain with one ratio only, it will have special parts that will enable you to use LiPo or regular batteries, it will have lighter drivetrain parts… and of course there are dozens of small, super-fine improvements we made that may not be readily apparent. The high-competition T2 platform was designed primarily for using NiMH battery packs but with the recent advancement of battery technology, the T2'009 has been optimized and prepared to accommodate the most popular LiPo batteries packs. Special graphite pads are inserted between the top deck and bulkheads which raise the top deck by 2.5mm to allow the fitting of the most frequently used LiPo battery packs. But we all know that small details make all the difference. Oh, and for 2009 the T2 will for the first time look different.
Q. What do you mean it'll look different?
A: As you may know, in my philosophy I focus mainly on design and performance, so when it comes to the color of the parts I prefer techy-looking stuff: black composites, black carbon fibre, brown HUDY Spring Steel™ parts, and pure silver aluminum. However, we constantly received requests for making our cars in different colors. Using the world's strongest aluminum 7075 T6, we do concede that the properties that make it so strong also make it extremely difficult to color coat. To be able to color coat the 7075 T6 we had to spend several months on very demanding testing of different procedures, chemical mixes, and coating processes to develop our own technique for color coating. This was really extremely demanding but we gained a lot of experience and pioneered some new processes. While there are several colors that we will never be able to consistently color using 7075 T6, we did end up with a nice range of different colors to choose from. We worked with different random customers to see which colors they preferred best. As such the 2009 car will have parts available in different colors. Which colors, you ask? You will see soon. But my personal favourites were black and violet and of course the natural silver aluminum.
Q: That big TC win on the international stage has been elusive so far despite coming close on a number of occasions. Is the early showing of next year's chassis an indication that XRAY is pulling out all the stops to win this race?
A: I wouldn't say that, no. Team XRAY is definitely one of the most successful RC car racing teams in the world. We have been winning most national titles around the world —  including already 20 USA National titles — but the team is also very successful at international events, recently the International Indoor Championship in Vegas, and the US Snowbirds which we have kept on winning for the past 5 years in a row. But it is true that we have been missing the Euros or World's title and to be honest I would really love to win one of those… not just for me but for the entire team that has been working extremely hard. Despite always coming so very close, the trophy always seems to slip through our fingers at the last minute. Maybe this is destiny's way of telling us that we need to work even harder. Maybe one day that lucky star will shine on. Maybe, maybe not. But for me coming to any race means 100% dedication and a professional attitude, so my first and most important goal is always to make sure our customers are happy with our products, support, and service. To this day I am very happy with — and very proud of — the work of our team. Let's see how we do at the World's next month.
Thanks for talking to us and we will see you in Thailand next month.
---