October 23, 2008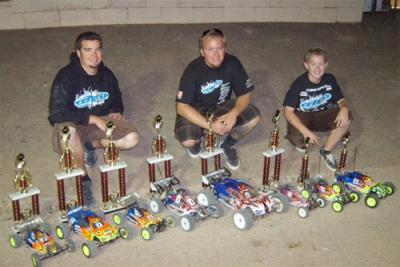 We received the following report from JConcepts on the Arizona State Championships, which were hosted recently by Scottsdale R/C Speedway (SRS), home of the Cactus Classic. JConcepts factory team drivers Ryan Maifield, Frank Root, and Tanner Denney all made it out for the 3 day event and put on a show. In 1/8 buggy, Ryan was on a mission. Still showing the #1 decals on his car from the World's, Ryan drove like he was not willing to take them off, TQ'ing every round of qualifying and going on to win the main convincing by several laps to prove how fast the new JConcepts Crossbow tires are.
Continue reading…
1/8 Truck was no different from buggy. Ryan kept his 2008 Truggy domination going by TQ'ing 3 of the 4 rounds, then winning the main by several laps. He also turned the fastest lap and the fastest 5 minute runs of the weekend with the new Truggy Crosshairs. He blistered the track and everyone would come out to watch each of his runs, with jaws dropped.
The 2wd Modified Class was all Ryan Maifield. After Frank Root TQ'd the first round, Ryan went on to TQ the next 3 and take the pole position for the single main, Frank would start second, Tanner third. At the start, Frank pushed wide in turn to allowing Tanner through for 2nd, but Frank would pass him back later that lap. Frank would then set his sights on Ryan, but applied too much pressure and made a couple of mistakes, letting Ryan cruise home for the win giving him 3 State Titles. Frank and Tanner raced for 2nd on the last lap with Frank just edging out Tanner giving the new Bar Codes tires the podium sweep.
The Truck Modified Class was all Frank Root. He used the new Truck Bar Codes tires to TQ the first 3 rounds, giving him the overall TQ, Tanner would start 3rd. A couple early mistakes from Frank would drop him back to 3rd, but he was able to get back in rhythm and chase down the leader, taking over with about 1 lap to go. Frank would cruise home from there to win his first Arizona State title, while Tanner would finish 3rd.
The 4wd SRS (10.5) class was the biggest electric class at the race. The local racers really enjoy the speed of 10.5 as well as the extended 15 minute main. Being no modified 4wd, Frank ran the 10.5 class. He TQ'd every round and cruised in the 15 minute main to win by well over a lap with Bar Codes lasting the 15 minutes easily.
Source: JConcepts [jconcepts.net]
---