October 27, 2008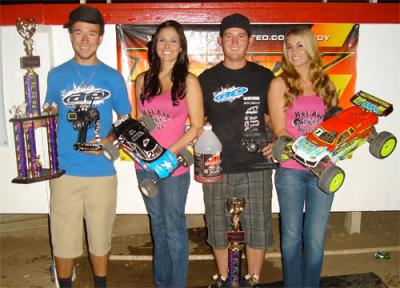 The 2008 Reedy Truck Race of Champions was held last week at Hot Rod Hobbies in Saugus, California. Temperatures reached the mid to upper 90's all week long putting motors and batteries to the test in these extreme conditions. On Thursday there was a buzz going around the pits with last years defending Reedy Truck Race Champion and current World Champion Jared Tebo arrived to the track, but had a few less stickers on his truck. Jared was recently released from his motor/battery sponsor a few short weeks ago and didn't have a power sponsor. A closer look at his truck showed he had a Team Orion Vortex Brushless Motor and a Team Orion 3800 LiPo Battery in his truck.
Continue reading…
In the Factory Modified Truck Class it was all Tebo and Cavalieri. With three qualifiers already in the books, both drivers had a TQ. After the 4th round was finished, it was Cavalieri that came out on top as overall TQ. Tebo would start second on the grid for the triple A-Mains. Tebo and Cavalieri picked up right where they left off in qualifying making it a two truck race for the overall win. Both drivers swapped leads numerous times throughout the triple A-Mains putting on a show for the crowd of great driving and sportsmanship. Cavalieri won A-Main #1, then Tebo went on to win A-Main #2 & #3 making him the Factory Modified Truck Champion!
1. Jared Tebo
2. Ryan Cavalieri
3. Ryan Maifield
4. Steven Hartson
5. Dustin Evans
6. Matt Chambers
7. Mike Truhe
8. Frank Root
9. Ryan Lutz
10. Jeremy Felles
In the Factory Nitro Truggy class Cavalieri was the man to beat. Ryan went on to TQ the first three rounds of qualifying locking up the overall TQ. He started out the 45-minute A-Main with a very fast pace with second qualifier Ryan Maifield following close behind. At the half way point, it was now only Cavalieri and Fisher who were only separated by a few corners. With lightning quick pit stops by his dad Louis Cavalieri and teammate Chris Jarosz, Ryan was able to pick up some valuable time on his competition to stretch out his lead. With 45 minutes complete, Cavalieri crossed the finish line first making him the Factory Nitro Truggy Champion!
1. Ryan Cavalieri
2. Billy Fisher
3. Ryan Lutz
4. Mike Truhe
5. Cody King
6. Chad Bradley
7. Brian Kinwald
8. Dustin Evans
9. Clint Wachter
10. Ryan Maifield
Source: Team Orion [teamorion.com]
---