October 5, 2008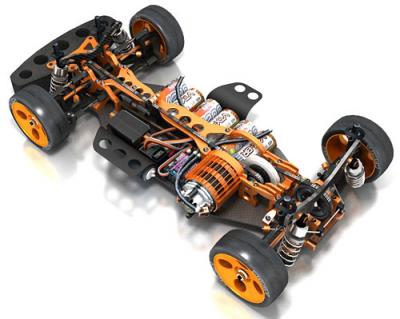 The new version of VRC on which the VRC development team has worked for the past 3 years has officially be named VRC Professional or in short, VRC Pro. The reason for this name is that the new version is a complete new platform and going from v3 to v4 could suggest that it is just another update. Nothing less is the case. VRC Pro has been completely redesigned, from the ground up. New game logic and structure to accommodate all possible classes, new state of the art graphics engine, extended physics with new collision system, new tire model and new nitro engine physics, and new car and track graphics. And then there is of course also multiplayer.
Continue reading…
Upgrading from v3 to VRC Professional means a complete new installation of the software. Unfortunately setups that have been saved can't be imported either because of the new structure. However, as VRC v3 will remain active you could actually open the setup in v3 and then re-create your favorite setups in VRC Professional, setting by setting… Or just start from scratch, experienced VRC racers will quickly find their way around and come up with good setups rapidly.
GRADUAL LAUNCH OF VRC PRO
With beta testing just around the corner the VRC marketing team, headed by Tim Bervoets, is now focusing on the launch of VRC Professional. The launch will be phased out over a 3 to 5 months period. At first the most active VRC racers will be invited to upgrade to VRC Pro. Next a second layer of active VRC racers will be added, etc. At one point the new VRC Pro users will be able to invite a limited number of their friends into VRC Pro. After 3 to 5 months VRC Pro will become available for everybody. The reasons for this gradual launch are two-fold. First it gives our development the possibility to adjust structures and software where necessary based on early feedback of the first users, and second, we expect these first users to become active players in the new VRC WORLD social network community so by the time large numbers of VRC Pro users enter the community there will be a solid base of experienced users who are able and willing to assist new users in this new and exciting r/c racing world. Interested to be among the first to get involved with VRC Pro? Make sure your activity level in v3 is up!
QUARTERLY PROGRESS MONITOR
At the start of the 4th quarter 2008 VRC will introduce the Quarterly Progress Monitor, or in short QPM. All VRC members will be asked to cooperate with this project in order to monitor not only your own progress, but also the progress of the social network community and to find out where the VRC development team should focus on to improve VRC or the services around it. Every first week of a new quarter the members will be presented a list with the same questions with easy to use checkboxes. Filling out this list will take just a few minutes but it will provide VRC with a lot of essential information about how you look at VRC and where we need to improve. At the end of the first month of the quarter the results of the QPM will be published together with an action plan for further improvements. VRC members determine the future of VRC!
For more information about VRC go to the game website here.
---