October 31, 2008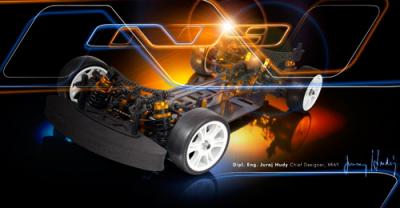 We brought you exclusive details last week and now Xray has introduced their latest 1/10th scale EP touring car chassis, the T2'009, which the company claims is the most advanced RC touring car on the market today. Revolution, evolution, optimization… those are the key terms that describe how the T2 platform came to be over the last few years. Xray Research & Development along with the Factory Team devoted themselves to extensive testing, all in the effort to bring the consumer the latest evolution of the successful T2 platform. With the fast paced rule changes in touring car, the main focus of the T2'009 has been to evolve & optimize. To take on what the world can offer and outperform all others under any racing conditions with any rules. Take your pick, asphalt, carpet, rubber or foam tires, NiMh or cutting edge LiPo batteries, high‑performance brushed or brushless motors, the T2'009 can handle them all and dominate the competition in the process.
Click here for more information and photos…
New XRAY T2'009
Based on the highly successful T2'008 platform, Xray now presents the improved, refined, and optimized T2'009. This car brings forth all the goodies from the T2'008, loading in all of the latest parts and products supporting the car's high-performance nature to gain a distinct edge in the highly-competitive spectrum of foam- and rubber-tire racing.
T2'009 EU Rubber-spec vs. US Foam-spec Editions
Whether you are racing with foam or rubber tires on carpet or asphalt… there is a T2'009 for you. You can choose between the EU or US Editions and have a car that is finely tuned for each specific racing environment. Despite both cars being built from the same platform and sharing all the same goodies, each edition of the car has very small differentiating details that enable you to gain an edge in competitive performance.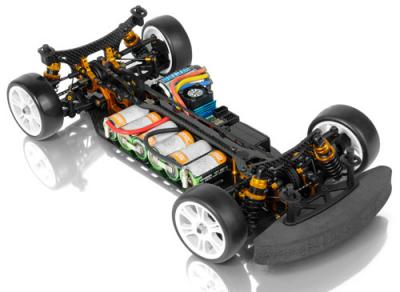 2009 new & main features:
– Based on the ultra successful T2'008 platform, fine tuned for highest competition racing on rubber & foam tires
– LiPo pack ready with the use of unique graphite pads that raise the top deck to fit popular-sized LiPo battery packs
– New super-light Swiss 7075 T6 aluminum rear drive shafts, hard anodized, black coated and laser engraved, 38% lighter than standard drive shafts
– New super-light drive axles with 35% less rotating mass
– Drivetrain featuring 34T/20T pulleys on both EU and US versions
– Limited edition orange coloring on aluminum parts for stylish and distinctive look. Warning, the blazing orange color will not improve lap times.
– Dozens of ultra-fine improvements particularly on tolerances, clearances, and material structures
– Most parts are fully compatible with the T2'008
– Available in two versions to meet specific ROAR, EFRA, and FEMCA regulations:
– US Foam-spec 6-cell Edition (#30 00014) – ROAR
– EU Rubber-spec 6-cell Edition (#30 0013) – ROAR, EFRA, FEMCA
– Battery slots on chassis moved slightly outwards for better clearance between batteries and spur gear
– EU Edition available with 6-cell chassis which allows fitting of both 5- and 6-cell battery configurations
– EU Edition features narrow, ultra-thin 2.0mm top deck for higher grip
– Reduced sensitivity to changing track conditions, giving super-consistent performance during runs
– Lowered battery backstops for better fit and clearance between soldering tabs
– Both EU & US Editions come with Swiss 7075 T6 aluminum ball differential
– Centrally-positioned layshaft and split bulkheads provide optimum balance thanks to perfect weight distribution of the motor towards centerline, giving quicker left-right transitions
– Ultra-light bulkheads CNC-machined from premium Swiss 7075 T6 aluminum
– Motor mount bulkhead features the lowest possible motor mount, compatible with stock, modified, and brushless motors
– Super-light composite front Solid Axle with XRAY's own smart quick-change outdrive system for easy outdrive exchange (EU Edition only); no servicing or replacement of drive shaft blades needed, translates into reduced servicing costs
– Specially-optimized drive shaft lengths for specific foam- and rubber-tire racing conditions:
– US Edition: standard 50mm CVD drive shafts for use with foam tires (generally higher traction than rubber tires); optimum transfer of traction to the wheels
– EU Edition: longer 52mm front/rear CVD drive shafts positioned more towards centerline in diff/solid axle outdrives to generate more overall traction and make the car easier to drive on low-traction tracks
– Servo saver positioned in absolute centerline of the chassis
– Aluminum center top deck mount specially designed for rubber tires on carpet –decreases front suspension traction and eliminates front tire overheating, ensuring consistent handling during runs
– Front bulkheads with extra reinforcement legs allow for additional chassis flex adjustment from the bottom of the chassis
– Independent front and rear diff height adjustment
– Long front & rear suspension arms for improved traction and easier handling feature optimized shock mounting positions for improving steering and traction
– Suspension arms feature integrated anti-roll bar mounts; rear arms feature two different anti-roll bar mounts for super-fine adjustment of the rear anti-roll bar
– EU Edition includes both front and rear anti-roll bars (front 1.6mm & rear 1.4mm)
– C-hubs with large openings for quicker and easier assembly/disassembly of the CVDs; prevents collision of CVD with C-hub in serious crashes (compatible for the ECS drive shafts)
– C-hubs available in standard caster angles (2°, 4° and 6°); available in two hardnesses (EU – medium, US – hard)
– Rear uprights with integrated 0° toe-in to prevent suspension geometry change in serious crashes; available in two hardnesses (EU – medium, US – hard)
– Steering blocks available in two hardness (EU – medium, US – hard)
– Front suspension arms allow 2mm adjustment of front arm position
– Both front & rear shock towers machined from premium graphite material featuring Quick Roll Center positions and optimized shock absorber positions
– Front shock tower specially machined for ultra-low weight without compromising strength
– Lightweight middle alu layshaft with centrally-positioned spur gear for perfect balance
– Ready and optimized for brushless motor systems
– Ready and optimized for most LiPo battery packs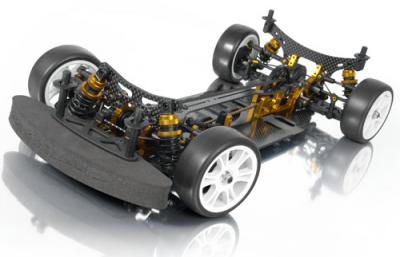 T2'009 EU Rubber-spec Edition – Extra Features:
– EU Rubber-Spec Edition (#30 0013) specially designed for rubber-tire racing
– 2.5mm flexible chassis for 6-cell batteries
– Narrow top deck machined from ultra-thin 2.0mm graphite for improved traction
– Hard rubber-spec front and rear suspension arms – marked with "H"
– Medium rubber-spec steering blocks, C-hubs, and rear uprights
– XRAY Composite Front Solid Axle
– Super-smooth adjustable Swiss 7075 T6 rear ball-differential with XRAY Labyrinth Dust Covers™
– Longer 52mm HUDY Spring Steel™ CVD drive shafts in front, 52mm Swiss 7075 T6 aluminum drive shafts in rear
– 34T front and rear pulleys, 20T center layshaft pulleys
– C2.6 and C2.8 racing springs
– 84T 48P spur gear  – extra-hard material, wobble-free design
– 1.2mm front and rear anti-roll bars
– EFRA, ROAR, FEMCA spec compliant for modified and stock racing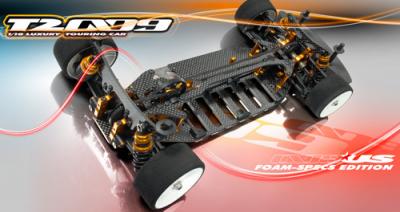 T2'009 Foam-spec Edition – Extra Features:
– US Foam-Spec Edition (#30 0014) specially designed for foam-tire racing
– 3.5mm ultra-thick solid 6-cell chassis with milled areas allows all parts to be mounted ultra-low
– Wide top deck mounted to chassis via aluminum standoffs provides wide, ultra-stable, solid platform. Top deck features Multi-Flex -Technology™ flex points for adjustment of flex and torsion settings from stiff to ultra-stiff.
– Extra-Hard foam-spec front and rear suspension arms – marked with "XH"
– Hard foam-spec steering blocks, C-hubs, and rear uprights
– Super-smooth adjustable Swiss 7075 T6 aluminum front and rear ball-differentials with XRAY Labyrinth Dust Covers™
– Standard-length 50mm HUDY Spring Steel™ CVD drive shafts in front, 50mm Swiss 7075 T6 aluminum drive shafts in rear
– 34T front and rear diff pulleys, 20T center layshaft pulleys
– Light purple and white springs
– 116T 64P spur gear – extra-hard material, wobble-free design
– 1.4mm front anti-roll bar included
– ROAR spec compliant for modified and stock racing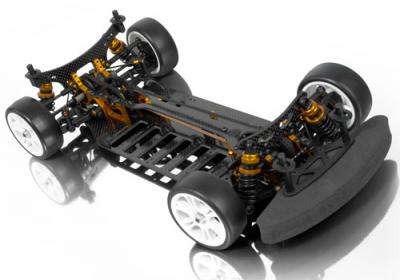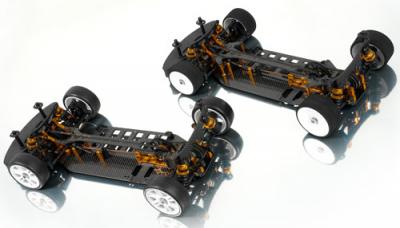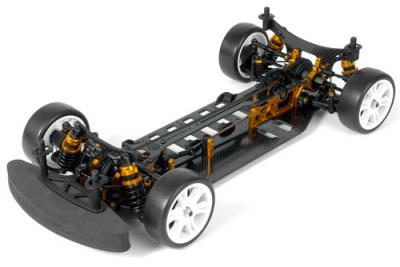 Source: Xray [teamxray.com]
---