November 15, 2008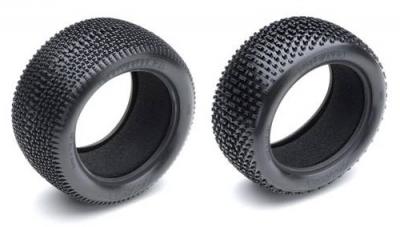 AKA Racing have announced new tires for the 1/8 competition truggy class. On the heels of the very successful line of competition buggy tires, these new truggy tires include all the same great features that are sure to deliver the best possible performance. AKA tires are made using the highest quality rubber compounds that have been specially formulated and refined over decades by Mark Pavidis and Gil Losi. The rubber compounds are formulated to provide the best balance of traction and wear resistance and AKA truggy tires include a standard bead configuration, so in addition to perfectly fitting the AKA truggy wheels, they also fit many of the most popular brands of truggy wheels.
Click here to read more…
City Block – The most versatile new tread pattern the buggy market has seen in decades is reproduced for the AKA truggy line. It features a stepped tread pattern that includes a large rectangular lug as the base with smaller square pins mounted on top. The small pins give the City Block unmatched traction on hard packed surfaces, but mounting them on top of the larger lugs provides more tread depth, so the City Block also delivers excellent performance even in conditions where there's a lot of loose dirt. The center of the tire features alternating rectangular lugs that provide excellent traction under hard acceleration and braking. That means you get the best of both worlds – great traction in the racing line, and for those moments where you stray off the racing line.
I-Beam – This popular tread pattern is scaled up for the AKA truggy tire line. The tire gets its name from the I-beam shaped tread, which is more flexible and forgiving than a square pin, so you get better traction. The I-Beam pattern alternates from inline to sideways orientation, which means there's traction in all directions. Large rectangular center lugs produce excellent forward bite, and the "I-Beam" shaped tread delivers for side bite and all-around cornering. The depth of the tread makes the I-Beam well suited to loose and medium-packed conditions with deep areas of loose dirt around the edges of the track.
AKA ground-foam inserts have already set new standards in buggy performance, and the inserts included in the City Block and I-Beam truggy tires will have an even greater impact on the competition truggy market. The nearly perfect ground foam inserts feature exceptional balance and contour right out of the package, which means there's no balancing, no cutting or other prep work required to use the inserts – they fit perfectly right out of the box and run true without the need for time consuming balancing. The AKA inserts are also very durable. They're not affected by water, they don't tear, and unlike most inserts that wear out before a single set of tires, the AKA inserts will outlast 10 to 20 sets of tires.
---