November 24, 2008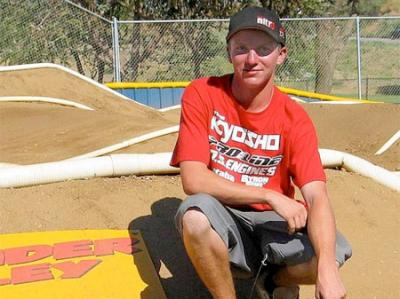 Front running US off road racer, Levi Jackson, sent us a statement concerning his impending move from Kyosho, for whom he has run for 3 years, to new sponsor O'Donnell.
This past weekend at the Kyosho Fall Classic was a bittersweet weekend for me and my Dad! Both of my Kyosho vehicles were awesome as always! Finished 6th in buggy and 2nd in truck, that was the great part of the weekend. Here is the Tough part, this was the last race running as a Team driver for the Red Army. I have great opportunity to run for another rc car company with my debut race at Thunder Alley for the Toys for Tots race December 6th.
Continue reading the statement…
First off, I would like to thank Kyosho for all the support they have given me in the past 3 years. If it wasn't for Kyosho I would not be at the level I'm at today. I have run Kyosho since day one and I have had some amazing results in the process. I have met a lot of really nice people and have made some of the greatest friends I could ever ask for while running for Kyosho.

I would just like to say a Special Thank You to Steve Pond, Joel Johnson and that I was very lucky to get the opportunity to run for such a great company! But, I personally think it is time for a change and I will no longer be running for Kyosho.

Secondly, I would like to thank Paul and Cody King for everything they have done for me in the past few years! You guys are both amazing teammates and were always there to help me with what ever I needed and I sure am going to miss you guys!

Also, Big Thanks to Mark Pavidis, you have taught me so much in the past few years and were always willing to help me, no matter what it was with. You're a great friend and a great role model for us younger kids!

I would also like to thank the entire Kyosho team, going to the races and knowing I would have people there to help me and have such good team support made it a lot easier as a racer! Plus, we had a TON of fun at the races together. =) I wish you all the best of luck in the future!

On that note, I would like to thank Steve O'Donnell and Scott Cramer/ Hobbico for giving me the opportunity to run their products to end the 2008 and entire 2009 season. They have a great thing going as a racing team and I am very excited to be apart of their efforts and work with everyone at the races. I can't wait for next year!
---