November 17, 2008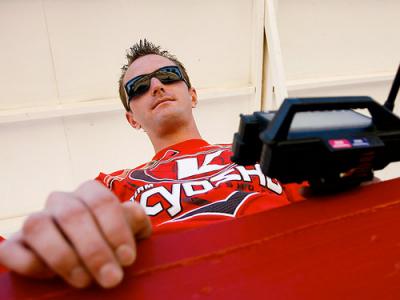 Following the recent departure of Ryan Lutz from Kyosho, to move to Tamiya, the Kyosho Team manager role has been passed onto Team Orion Team manager Joe Pillars. Joe sent us the following statement:
I would first like to wish former Kyosho Team Manager/Factory Driver Ryan Lutz the best of luck with his new job and direction in racing. It sounds like he received a great offer and he deserves everything he gets. It has been great to work with Ryan here at Kyosho for the past year. He is a great guy on and off the track and any team would be lucky to have him. Taking over the role of Kyosho America's Team Manager is a great honor and I am very happy to be chosen for this position. I would also like to say thanks to Joel Johnson for this great opportunity. Kyosho is one of the most successful R/C companies to date with a great name in this industry for high quality products and a history of winning.
Click more to read a little background…
I moved to California from Michigan at the age of 19 to pursue a career in the R/C industry. I started out working part-time for Xtreme R/C Car Magazine for the first couple months I was out here. I was then offered a full-time job by Rick Hohwart to work for Team Orion and have been here ever since. I started out working in motor production and then was moved more towards the racing side. Since being promoted to Team Manager for Team Orion USA 5 years ago, I made the decision to focus less on my racing and more on the team. It is just too difficult to try and race at the highest level as well as making sure your team has everything they need. This decision was made at the end of my 2003 race season where I full-filled a life-long dream of mine that was to make an A-Main at a World Championship. This was at the IFMAR Electric Off-Road World Championships in Florida. I went on to qualify 7th overall and finished 8th in highly competitive 2wd Modified class.

As Team Manager, I have helped Team Orion win over 20 National Titles, an IFMAR On-Road Electric World Championship, along with countless other races world-wide. I feel with my racing experience, I can help Kyosho keep moving forward with great race results and increasing sales.
The first race on our schedule for 2009 is the Electric and Nitro CRCRC Winter Mid-West Championships.
---