November 6, 2008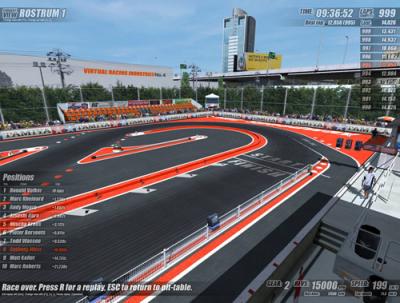 VRC Pro is four in one: it is a Professional RC racing simulator, Racing game, a Sports game and Massive Multiplayer Online Game (MMO) in one. As a Professional RC racing simulator, VRC Pro simulates the RC racing experience as accurately and realistically as practically possible, taking into account vehicle dynamics, graphics, control, real-world replication, while overcoming real-world limitations like geographic boundaries and substantial costs. As a racing game, VRC places the player on the rostrum, controlling a high-performance vehicle and allowing the player to race against other drivers or just time. As a sports game VRC Pro emulates the playing of the traditional physical RC sport: it emphasizes both performing the sport and the strategy behind it. VRC Pro features two main sub-genres within racing games: arcade racing and professional simulation racing.
Continue reading…
The 'fun class' is pointed at arcade racers and includes exaggerated physics, fantastic settings and course layouts, and unrealistic damage handling. The other classes are dedicated to simulation racers who focus more on accurate handling and performance of real-world cars, altering the performance of the vehicles (from engine tuning to suspension settings and gear ratios of the transmission) and partaking in real-world like racing events. As a massive multiplayer online game (MMO), VRC Pro differs from other games in the sheer number of players interacting together over the Internet via virtual worlds. Full multiplayer over internet supports 10 – 15 racers on one track simultaneously per session (and unlimited number of simultaneous sessions), but the new VRC WORLD community website hosts many more racers. VRC WORLD features a sophisticated knowledge sharing and experience sharing platform, making it into a revolutionary social networking MMO environment, ready to facilitate the world's biggest RC racing community.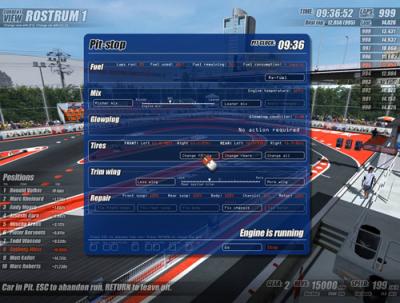 In-Game and pit stop interface
VRC Pro will feature new in-game and pitstop interfaces or menus. They are designed as kind of head up displays (HUD) which are laid over the background. The in-game interface shows race positions on the left and actual laptimes on the right, this information can also be suppressed during racing but will automatically come up during the pitstop. The pitstop interface lets you change tires, refuel, re-adjust the wing, adjust the engine and even change the glowplug if you have run the car too lean for too long. Electric cars will have a different set of parameters that can be changed.
For more information about VRC go to the game website here.
---