December 12, 2008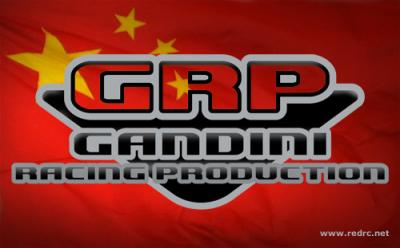 According to Italian newspaper 'Il Sole 24 Ore', engine and tire manufacturer GRP Gandini has been sold to a Chinese investor. The move follows some financial difficulties for the competition brand following bad months for sales in September and October. This led to the investment bank wanting out and so the owners, Stefano and Maurizio Gandini, were forced by the banks to sell the concern, which they started in 1994. The sale, said to be in the region of six million euros dollars, leaves the former owners no longer at the helm of the company, but both will stay on as technical advisors. It not confirmed whether the production will move to China where the paper claims production costs will be 1/3rd of that in Europe. We have contacted GRP for comment and will add their response when we get it.
UPDATE (17:52): The Gandini brothers have issued a statement (automatic translation) on an Italian forum saying they have not been sold and the whole story was a HUGE misunderstanding by the journalist who wrote the piece.
UPDATE (18:18): GRP have directly sent us a statement which is published below…
Official statement from GRP about the article appeared on 10th of December

With reference to the article published on "Il Sole 24 Ore", we have already sent a denial to the same newspaper which will be published at once, since there has never been any transaction for the acquisition of GRP of behalf of any company, let alone on behalf of a Chinese company.

This news is the result of a simple misunderstanding from a journalist of this newspaper who was interviewing Mr. Gandini over the phone where he was saying that a year ago GRP received a request from a Chinese company, which was evaluated but never taken seriously in the end.

We confirm you that the will of Maurizio and Stefano Gandini, sole owner of GRP, is the one to keep their production in Italy in Via Michelangelo 3 in Guidizzolo, even because our product is a very high quality product with a very low labor incidence and where our know-how makes the difference. Therefore, our product would not gain any advantages if it were produced in China, especially now in this worldwide economical crisis where in our opinion it is better to privilege the quality of the product.

Needless to say, we are extremely sorry about this very unfortunate misunderstanding.

In faith,
Maurizio and Stefano Gandini
from Italian Forum

Good evening everyone,

We anticipate an official retraction to be released soon on "Sole 24 Ore" about the news published on the sale of GRP to a Chinese company.

This news was prompted by a telephone interview which was badly interpreted in which we spoke of a takeover bid we received last year, but which we had refused.

Our intention is obviously to stay here in Italy, where we have a family, and where we like to live…

We confirm that, despite the current difficulties that all companies have, we without doubt intend to continue our work as usual.

We look forward to receiving all customers to visit us at any time at Guidizzolo, now and in future.

Maurizio e Stefano Gandini – GRP srl
To misinterpret the story this badly, the 'journalist' in question needs to consider a change of career. We have included the original newspaper clipping which we based this story off.
---