January 24, 2009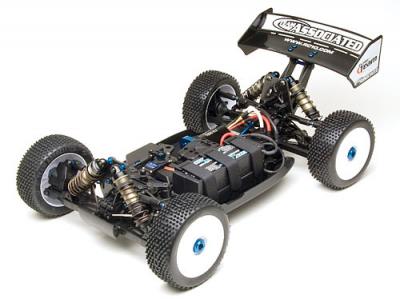 For a limited time only, Team Associated is offering their RC8 Factory Team kit including the eConversion kit and Factory Team 16mm 'Big Bore' shocks, making for the ultimate electric-powered 1:8 scale buggy. Normally you would have to buy the gas buggy and eConversion separately, which would see you left with parts you don't need, like the fuel tank and clutch. With this kit, that's not the case.
Click more for the full feature list…
RC8FT Electric Limited Edition Kit features:
– Factory Team threaded, hard-coated 16mm 'Big Bore' shocks with springs feature extra-large bladders for full volume compensation and 4mm gold shock shafts for durability
– Clear RC8e body #89523 included
– Rigid one-piece motor mount utilizes standard motor screw mounting pattern
– Molded battery tray supports 7.4-14.8V battery packs with room for foam pads
– Utilizes 3 hook-and-loop straps to secure LiPo batteries into battery tray
– Accepts two ROAR-approved 1:10 scale size 7.4v LiPo battery packs
– Receiver, servo, and battery tray remove from car in one piece for easy maintenance and cleaning
– Convenient wire routing keeps critical electronic wires out of drivetrain components and simplifies disassembly
– Large speed control mounting area raised off of chassis to allow for easy screw mounting of common speed controllers
– Speed control mounting area includes convenient switch mounting boss
– The 4.30:1 ratio gear boxes produce maximum punch allowing the RC8 to accelerate harder out of the corners and up the biggest jumps
– 4mm woven carbon fiber shock towers for maximum rigidity, strength and light weight
– Blue aluminum hexes and wheel nuts featuring nyloc providing the ultimate in security
– Wing angle and position is fully adjustable and secure
– Lightened 43-tooth diff rings make for the absolute minimum rotating-mass
– Captured outer CVD pins
– Metric hardware throughout
– Milled 3mm black hard-coated 7075 aluminum chassis
– Factory Team blue titanium turnbuckles
* The RC8FT Electric Limited Edition Kit does not come equipped with the parts needed for use with nitro engines. Body comes clear and requires painting. Assembly required. Tires, batteries, motor, speed control, and servo are not included and must be purchased separately.
Source: Associated [rc10.com]
---