January 31, 2009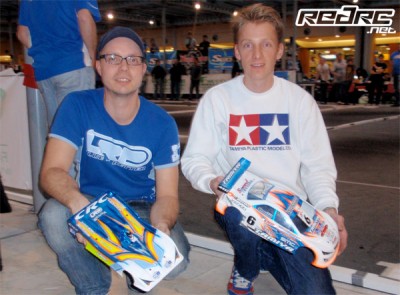 This week sees the first ever EFRA Indoor European Championships for 1/10th electric touring cars take place in the old Fiat factory building in Turino, Italy, run alongside the annual 1/12th scale Euros. With 80 racers in attendance, the race is held inside the biggest shopping mall in the city, and has been attracting hundreds of visitors every day who pass by the track which is situated in a 14 x 30 meter area, making for a very technical & challenging layout that doesn't offer much room for overtaking.
Touring Car practice
In the Touring car practice session it was Xray driver Alexander Hagberg from Sweden that set the fastest, as well as most consistent, lap times in the session followed closely by the Tamiya TRF team of World Champion Marc Rheinard, Jilles Groskamp and Viktor Wilck. Andy Moore and Ronald Völker showed well with their Hot Bodies and were also setting good times together with Marc Fisher running the new Corally chassis.
Touring Car qualifying
Alexander Hagberg continued to put in very good runs and it seemed like he would take the TQ spot, but in the last heat Jilles Groskamp was able to put in a good run and combined with his previous scores was able to take the top spot from Hagberg who would take 2nd, while current European Champion Marc Rheinard placed 3rd.
Touring Car A-Main grid
1. Jilles Groskamp (Tamiya/Speed Passion)
2. Alex Hagberg (Xray/LRP)
3. Marc Rheinard (Tamiya/Speed Passion)
4. Andy Moore (Hot Bodies/Team Orion)
5. Steven Weiss (Xray/LRP)
6. Viktor Wilck (Tamiya/Speed Passion)
7. Ronald Völker (Hot Bodies/LRP)
8. Elliot Harper (Xray/Nosram)
9. Teemu Leino (Xray/Team Orion)
10.Marc Fischer (Corally/GM)
1/12th scale report
There are 51 drivers fighting to be the new European Champion in 1/12th scale as defending Champion Marc Rheinard is not running in this class this year, preferring to focus on the touring car class. We expect a hard fight in tomorrow's finals with many drivers on the same pace, but at the end of qualifying we have same situation arising for the pole man as we did in Thailand for the Worlds back in November. If there is anybody, who is going to secure pole position for the B-main at important TC races, you can be sure that it can only be Hupo Hönigl from Austria, however he fared much better, as he did in Bangkok, in the 1/12th scale class where he will start from pole position with his CRC, ahead of Corally man Simo Ahoniemi in 2nd and Xray driver Alexander Hagberg in 3rd.
1/12th scale A-Main grid
1. Hupo Hönigl (CRC/LRP)
2. Simo Ahoniemi (Corally/GM)
3. Alex Hagberg (Xray/LRP)
4. Andy Moore (HB/LRP)
5. Marc Fischer (Corally/GM)
6. Jilles Groskamp (CRC/Speed Passion)
7. Juho Levanen (Associated/LRP)
8. Ronald Völker (HB/LRP)
9. Elliot Harper (Xray/Nosram)
10. Sakke Ahoniemi (Corally/GM)
Full results can be found on the official event site here.
We hope to bring a full report following tomorrow's all important A-mains.
Thanks to Uwe Rheinard for the report & photo.
---