January 9, 2009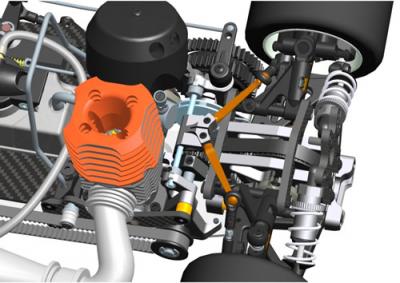 Serpent have release some CAD images of their new 1/8th scale chassis, the 966. Retaining the same front end as on the 960, the main innovations happen at the rear end where there is a completely new assembly. More accessible and stronger, the rear bulkheads are made from aluminium and sport a seperate set of blocks for both the 2-speed shaft/brakes and the lower suspension arm mounts. The rear axle eccenters have been made from aluminium and together with the anodising, the new materials help to create a perfect alignment for all the moving parts. Other changes include a carbon fibre upper suspension arm mount, new chassis plate & chassis stiffeners and updated, smoother shock absorbers.
Click more to read an interview with designer Michael Salven…
Q. How are you doing ?
A. I am doing ok, feeling fine, after some nice xmas celebrations with friends and family in Germany and New Year parties in Holland.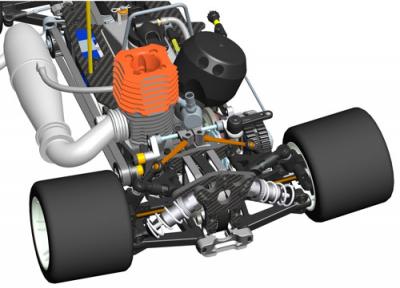 Q. What changes occurred in Serpent in 2008 ?
A. Many things happened, some planned, some unplanned. Most is back on its feet now and we have some exciting stuff in the pipeline. We now have a design/marketing office in Heemstede, Holland and production and central distribution is made from SerpentAsia based in HongKong. Serpent Europe will start officially this month, based in Germany and SerpentAmerica openend november last year already, so all structure is in place to service our Serpent fans worldwide.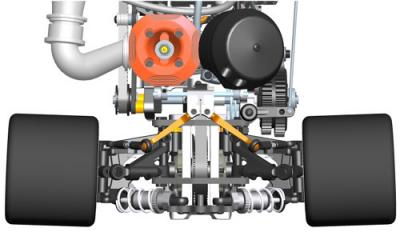 Q. The Serpent S120 1/12 scale car has been received really well, so what can we expect next product wise ?
A. Serpent will release the Serpent 966 1/8 scale car in february. I have worked on this design, mainly rear end changes, 2nd part of 2008 and production is running now. I really loved racing the 960, but this new version is even better. We will also release the Serpent S240, 1/24 scale electric pan-car (Lipo powered) in February too, more details to follow, a real fun-car for indoor-use. At this moment I am working on a complete new Serpent 1/10 scale gas car to be released around summer and its one of the best designs I have done so far … at least that's my opinion. Billy Easton our US based designer has been working on the Serpent 1/8 buggy in 2008 and most of the design is finished now, and proto-typing getting started. Billy will proceed with a truggy-design and then if the market-development makes is feasable maybe a new touringcar after or an electric buggy who knows ….
Q. When will you race again ?
A. At the Winternats in USA (feb.2009) I will race 1/8 with the new Serpent 966. I can hardly wait ! Then we have some test to do in Europe, the German races, at least one 1/8 EFRA GP and ofcourse the 1/8 Worlds in Swiss this summer. We have some strong aces for the Worlds with Cristiani, Fantini, Domanin, Green, Sahashi brothers, some other (unexpected) talents …. and I still count myself in too
Q. Some quotes for your Serpent fans ?
A. Of course a very happy New Year ! Our goal is continuing to be as innovative as ever and combine it with excellent quality! Join the team! To all Serpent fans good luck with racing and have fun! See you at the track!
Source: Serpent [serpent.com]
---