January 4, 2009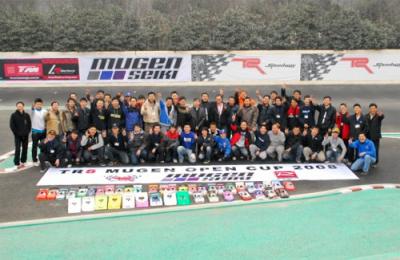 Held at the new TR Speedway, the 'TRS Mugen Open Cup' was co-organised by City Hobby from Hong Kong and the event featured former World Champion and current Japanese national Champion Keisuke Fukuda as well as Yuruki san from Japan as well as other top drivers from Hong Kong, Macau and China. We received the following report from front running Shepherd driver Chris Lee.
Continue reading…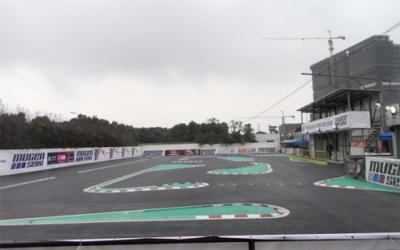 I arrived the track on Friday morning to find a good technical layout and after testing my Shepherd Velox 1/8, I found the surface was smooth with medium traction. The tire wear was also an acceptable level, considering it is still a relatively new surface. The track was built approx 5 inches off the ground and has a drainage system underneath. All the usually facilities were provided like pit tables with lights, air compressor, wash and tire prep area, fantastic lights for night racing, wireless internet connection and AMB online system as well as track side store for anyone who did not bring parts.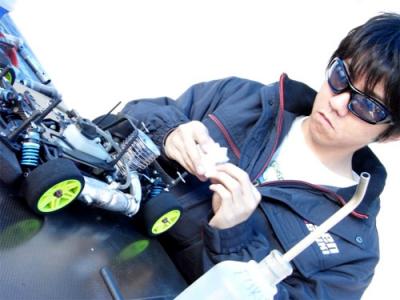 I had my standard setup and worked well and as the traction came up, I used harder springs all round and it was almost perfect ready for qualifying. Controlled practice started at approximately 1:30pm on Friday with touring car first and then 1/8th. Fukuda seems to have a faster car but the car's balance was off and he was traction rolling. Samuel Chiu from Hong Kong running his NT1 was flying and his lap shows he had few fastest laps over rest of the field. On 1/8, Fukuda dominated the practice with 14.58 sec per lap, I was second with 14.88sec.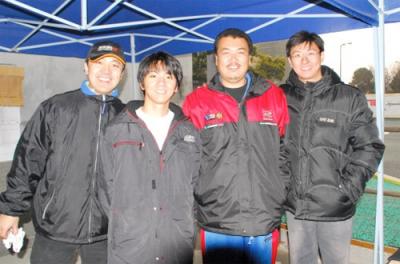 Saturday everyone arrived early and we have short practices before qualifying started. The temperature started dropping and the traction changed. Morning lap times was slower then yesterday. Fukuda TQ'd the first day of touring but Hang from Hong Kong nearly had a faster time but ran out of fuel on the last lap. For 1/8, I had trouble with the engine's tuning and later with Yuruki's help, I found I had a leaking tank which caused my engine to overheat. Lucky enough Rick, the track owner, lend me his special JP engine so I could start the race. Saturday night was the Welcome dinner provided by the organizer with lots of great prizes handed out to drivers including Ninja engines.
Unfortunately on Sunday it had rained overnight and the surface was wet and slippery. No one was able to improve their laps and the race was delayed until 14:00. Everyone was doing what they could to prepare for the wet surface.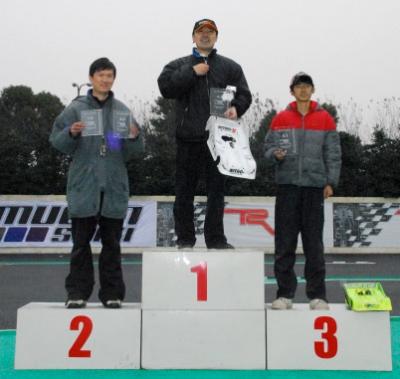 The A main final was shortened to 30 mins due to bad weather (and it was a good call). Fukuda decided to sit out of the race as he hadn't prepared for a rain race. Instead his mechanic Yuruki san helped me together with my good friend Chris Liu, meaning I had 2 mechanic so I must win and I didn't let them down. I had prepared my ATS tyres with traction compound so I was able to pulled away from rest of the field for the first 20 mins and I was on cruise mode on the last 10 mins and won by 2 laps.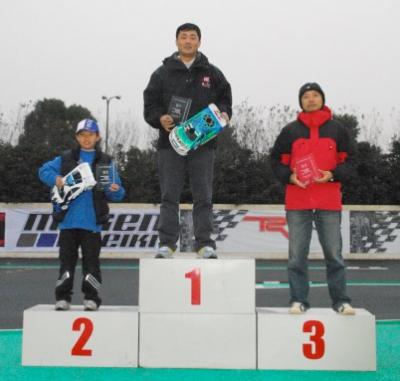 For the Touring A main, the weather got worse and temperature dropped even further. Hang led the first few minutes of the race but as the rain came down heavier, he lost control and was unable to continue. Alan Yau from Hong Kong using his Mugen had well prepared for the Rain race so he had no problem making the fastest lap and finishing first, in front of Tsui Kai Leung in 2nd with his NT1 with Chan Kai Man, also with a NT1, came 3rd.
I want to thanks Nitro X fuel giving me the power I needed to win this big events and Blitz body giving me the traction I needed during for the slippery condition.
Report by Chris Lee
---