February 24, 2009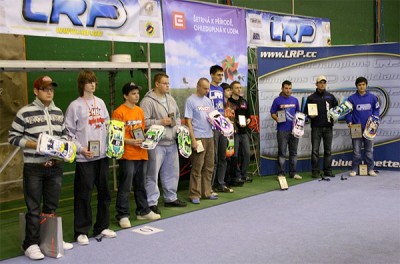 Last weekend saw the first ever Czech Masters race take place in Hrotovice, Czech Republic and the organizer confirmed 75 racers, including Martin Hudy, Steven Weiss, Ronald Volker and Michal Bok, all top European modified racers. Drivers were greeted with a 35×20 meter sized carpet track and the race was open to racers in Toruing Modified and Stock, as well as 1/12th. In modified, it was Vice World Champion Ronald Volker who won five of the six qualification rounds with his HB Cyclone to take TQ, edging out his friend Steven Weiss driving for Xray, with Martin Hudy and Michal Bok rounding out the top 4, also with Xray.

In the finals, the first leg went to Volker, ahead of 2nd placed finisher Steven Weiss after with Martin Hudy 3rd. In the 2nd leg Ronald again claimed victory, this time ahead of Bok in 2nd and Hudy 3rd, after Steven had some problems. Even though Ronald had wrapped up the win after leg 2, he went out in the 3rd leg and once again won, with Steven taking 2nd and the overall runner up spot, while 3rd in this leg and overall went to Michal Bok.
Final standings Modified
1. VOLKER Ronald (D) – HB Cyclone TC
2. WEISS Steven (D) – Xray T2'009
3. BOK Michal (CZ) – Xray T2'009
4. HUDY Martin (SK) – Xray T2'009
5. KUNAK Zdenko jun. (SK) – Xray T2'009
6. HAMAK Zdenek (CZ) – HB Cyclone TC
7. KORINEK Martin (CZ) – Xray T2'0099
8. FADTKE Dennis (D) – Tamiya TRF416
9. MIHALIK Martin (SK) – Xray T2'009
10. MORAVEK Jan (CZ) – HB Cyclone TC
In the Stock class it was top Slovakian stock class racer Zdenko Kunak that took the pole position for Xray in front of Czech racer and ETS front runner Jakub Plechac in 2nd with HB, while 3rd spot went to Trebic club driver Vojtech Novicky, with Xray. The first leg was unlucky for Jakub Plechac and so Zdenko Kunak could take an easy win before Czech driver Radek Flek and Igor Krivek from Slovakia. In leg 2 Jakub must win to stay in the fight for the overall and he went out and won, by one second in front of Zdenko Kunak, setting up a last leg thriller. The final leg saw some collisions at the start which impeded Zdenko and allowed Jakub to pull away up front and take the overall win.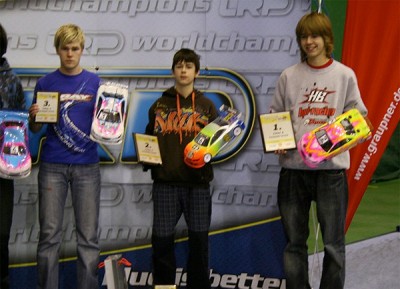 Final standings Stock
1. PLECHAC Jakub (CZ) – HB Cyclone TC
2. KUNAK Zdenko jun. (SK) – Xray T2'009
3. NOVICKY Vojtech (CZ) – Xray T2'008
4. KRIVEK Igor jun. (SK) – Xray T2'009
5. FLEK Radek (CZ) – Xray T2'009
6. HASSE Karel (CZ) – Xray T2'008
7. MARUSCAK Patrik (SK) – Xray T2'008
8. BRYX Radovan (CZ) – Xray T2'008
9. GARAJ Timotej (SK)
10. CERMAK David (CZ) – Xray T2'008
In the 1/12th scale category, the TQ spot went to Xray designer Juraj Hudy with his Xray XII, the only driver to reach 29 laps in the 8 minute qualifiers, while 2nd was Martin Zvara with Associated and 3rd went to Tomas Kembitzky, also with Xray. In the finals, Juraj Hudy won first and 2nd leg to take the overall win in front of Roman Korinek with Corally, while Associated driver Martin Zvara took 3rd spot.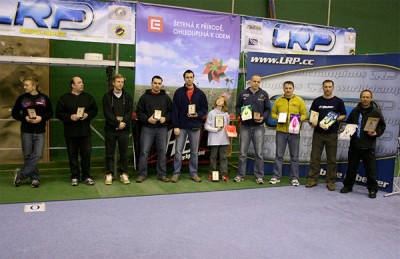 Final standings 1/12
1. HUDY Juraj sen. (SK) – Xray XII
2. KORINEK Roman (CZ) – Corally
3. ZVARA Martin st. (CZ) – Associated
4. KEMBITSKY Tomas (CZ) – Associated RC12
5. NOVOTNY Karel jun. (CZ) – Xray XII
6. JANSA Pavel (CZ) – HB Cyclone
7. JANSA Michal (CZ) – HB Cyclone
8. KUKAN Alexandr (CZ) – Associated RC12
9. OPL Jiri (CZ) – Associated RC12
10. HUDY Martin (SK) – Xray XII
Source: Team Airspeed [teamairspeed.com]
---