February 1, 2009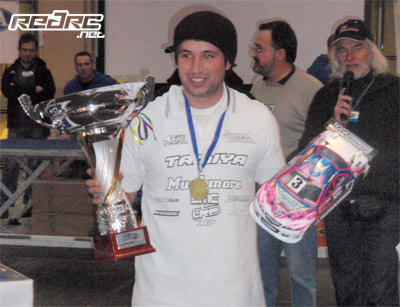 The finals for the first European Indoor Championships took place today in Turino, Italy today and there were some very familiar faces on the top of the podium following 3 intense legs of racing. Run alongside the 1/12th scale finals, the Touring car A-mains took place earlier in the round and so the Champion for this class was to be decided first. At the start of the first TC A-main leg, it was Marc Rheinard that crossed the starting line first, following a very early collision with the barriers by both, pole man Jilles Groskamp and 2nd placed starter Alexander Hagberg that allowed the DHI Cup Champion through. Once up front Marc didn't offer any chance to get passed and crossed the finish line first, followed by team mates Viktor Wilck and Jilles Groskamp.
In the 2nd A-Final it was Alexander Hagberg that put in a perfect run with his Xray to take the leg win from Marc Rheinard in 2nd and Andy Moore in 3rd. Following this race, the Tamiya-drivers claimed to have had problems with understeer, which had hindered then in their race and some adjustments would be made for the final deciding leg.
The last final showed once more, that you also need luck to win. This final saw a perfect drive from pole man Jilles Groskamp who was able to finish the race unchallenged to take the final leg win. Behind him, Marc Rheinard knew he must pressure Hagberg to get passed in order to claim the overall victory, but 1 minute into the race  the World Champion crashed his car at the beginning of the straight forcing him to retire. Unable to affect the final outcome of the race he was only able to watch as Hagberg sat in the perfect position for the overall victory, but cruel luck for the young Swede who after a few laps made a mistake which let 5 cars passed him and so enabled Marc to take the overall title. Jilles Groskamp secured the runner spot ahead of Viktor Wilck, giving Tamiya, Speed Passion, SMC and WAS Racing a complete podium lock out.
Touring Car final results
1. Marc Rheinard – 19pts (Tamiya/Speed Passion)
2. Jilles Groskamp – 18pts (Tamiya/Speed Passion)
3. Viktor Wilck – 17pts (Tamiya/Speed Passion)
4. Alexander Hagberg – 15pts (Xray/LRP)
5. Andy Moore – 15pts (HB/Team Orion)
6. Steven Weiss – 13pts (Xray/LRP)
7. Teemu Leino – 13pts (Xray/Team Orion)
8. Ronald Volker – 11pts (HB/LRP)
9. Elliot Harper – 10pts (Xray/Nosram)
10. Marc Fisher – 7pts (Corally/GM)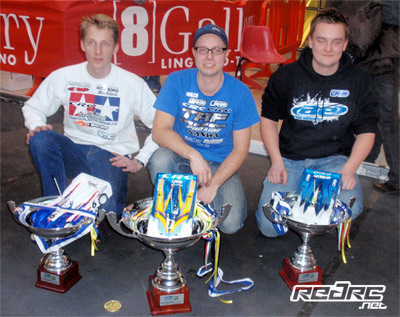 In the 1/12th scale finals the first A-Main saw a really good performance from the pole man Hupo Hönigl and he was easily able to the take the win. In the 2nd leg Hupo chose to use new tires and so had no chance to set the pace and subsequently lost many positions which enabled Team Associated racer and fellow World's podium finisher Juho Levanen, who started from 7th on the grid, to take the leg win.
In the 3rd and final leg, Hupo made a clean start and was pressured early by Corally racer Simo Ahoniemi. After 4 laps there was an altercation behind the leader which opened up a gap between Hupo in first and the chasing pack. This time could not be made up and so the Austrian CRC driver was able to claim the overall 1/12th scale European title. Another good final from Juho gave him the overall runner up spot, followed by another CRC driver, Jilles Groskamp in 3rd, giving the Dutch driver a double podium.
1/12th scale final results
1. Hupo Honigl – 20pts (CRC/LRP)
2. Juho Levanen – 18pts (Associated/LRP)
3. Jilles Groskamp – 18pts (CRC/Speed Passion)
4. Simo Ahoniemi – 14pts (Corally/GM)
5. Ronald Volker – 13pts (HB/LRP)
6. Alexander Hagberg – 12pts (Xray/LRP)
7. Marc Fischer – 9pts (Corally/GM)
8. Andy Moore – 8pts (HB/Team Orion)
9. Elliot Harper – 8pts (Xray/Nosram)
10. Sakke Ahoniemi – 8pts (Corally/GM)
Full results can be found on the official event site here.
Thanks to Uwe Rheinard for the report & photos.
---