February 24, 2009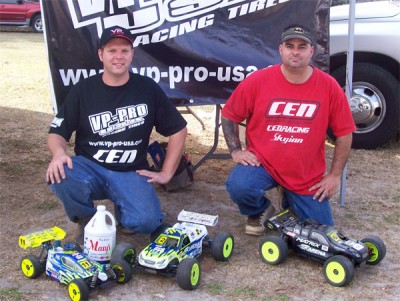 Gene Hickersen sent us the following report from the 3rd round of the ROAR Florida State Off Road Series hosted by Hurricane R/C Club in Lutz Florida. This is usually the largest race in FL every year and 2009 was no exception with 196 entries. All of the best drivers in the South East were there to test their skills on the tight & technical layout at the world famous Lake Park track. Thursday night brought some rain, which kept the moisture in the track all weekend for the blackest blue groove I have ever seen. Team VP Pro USA was in attendance with myself, Joey Perez, and even Ryan Lopez driving down all the way from Georgia. Jason Rouna and JR Mitch from J-Concepts were there as well as Leon McIntosh from Pro-line and Ryan Eckert from AKA Tires and many other fast drivers from various manufactures.

The track was run wet on Friday's practice and then calcium was put down at night. The weather was on the chilly side, so it took a while before the groove came up. The FSORS uses 2 rocket rounds of qualifying on Saturday and the main events on Sunday.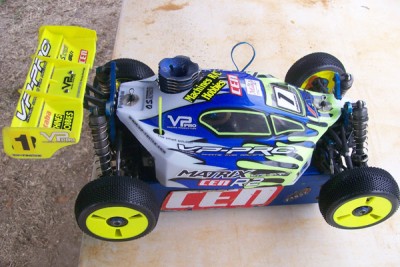 1/8 Expert Buggy
In round #1, the track was still slick, but lap times continued to drop with every heat. Mitch took the early TQ in round 1, followed by Eckert, McIntosh, Angelidas, Hickerson, and Lopez. Round 2 was the story as the track was now 1-2 seconds per lap faster then in round 1. Mitch set a new TQ followed by Ryan Lopez 2 seconds slower, while Rouna, Eckert, and myself had trouble and did not improve on round 1 times. That gave Mitch the overall TQ with Lopez in 2nd and JP Tirronen in 3rd. I flamed out, so I dropped from 5th to 11th, putting me in the B-main.
The B-main was run Sunday at about 10:30am. I was staring 1st with several other fast drivers including Rouna. 2 would bump up to the A-main. I took the hole shot followed closely by Rouna. Rouna soon crashed and gave me some breathing room. I quickly pulled away and lapped the whole field by the 15 minute mark and went on to win with Rouna also bumping up. The A-main started at around 1:30pm with the track having an incredible blue groove. At the start, Micth, Lopez, McIntosh, and Eckert all battled for the lead, swapping positions often. I slowly worked my way through the field from 11th positon. By the 8 minute mark, everyone else had pitted, handing me the lead. I then came in for my 1st pit stop, giving the lead back to McIntosh. McIntosh had a failure minutes later giving me the lead back. Lopez, Mitch, Eckert, and Rouna all had failures as well, giving me a whole lap on the field by the 11 minute mark. I then went into cruise control for the last 19 minutes and took an easy win by more then 1 lap over 2nd place Mitch with my brand new CEN Matrix R2 with VP Pro Turbo Trax Medium Flexx tires. Nathan Wincek finished 3rd 2 laps back.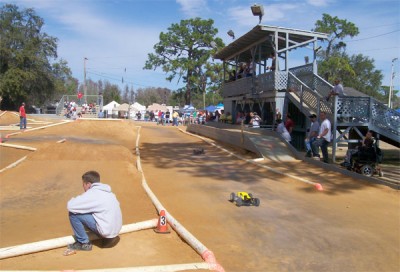 1/8 Truck
The 1st round of truck already had a sick groove from the 80+ buggies that had run on it. I set the early TQ with a perfect run except being taken out by lapped traffic twice. Mitch was up next and set a new TQ by .15 seconds. In round 2, the track was still fast but getting slower with each heat as the sun started to set. Eckert was able to set a fast run to move into 3rd qualifier, but no one beat Mitch and my times from round 1.
The A-main started around 4:00pm. I felt very confident since my truck was so dialed with the VP Pro Turbo Trax in qualifying. But the very 1st lap of warm-up, my spur gear blew 2 teeth off from the massive torque created from the blue groove. I ran back to my pits but did not have time to fix it before the start of the A-main event. I started 2 minutes late with my Pit man's Matrix TR Arena. I was not a factor in the race and tried to stay out of people way but still manage to finish 8th place. Mitch took the lead and once McIntosh and Eckert dropped out with failures, he went on to an easy win. Track president Joey "Batman" Perez put in an impressive 4th place finish with his TR Arena using VP Pro tires for the 1st time. Batman also used Medium Flexx Turbo Trax on his truck. I would like to welcome Joey Perez to Team VP Pro USA and hope to see him in many more A-mains to come.
1/8 Expert Buggy
1. Gene Hickerson 53 laps 30:19.98
2. JR Mitch 52 laps 30:26.64
3. Nathan Wincek 51 laps 30:08.31
4. Ryan Eckert 51 laps 30:13.03
5. JP Tirronen 51 laps 30:29.98
6. Tim Smith 50 laps 30:16.14
7. Nick Angelidas 50 laps 30:16.62
8. Gary Mazur 50 laps 30:32.43
9. Leon McIntosh 39 laps 22:37.95
10. Jason Rouna 33 laps 19:48.50
11. Bobby Phillips 32 laps 30:35.32
12. Ryan Lopez 25 laps 14:49.88
1/8 Expert Truck
1. JR Mitch 52 laps 30:22.71
2. Nathan wincek 51 laps 30:08.15
3. Greg Smith 50 laps 30:23.14
4. Joey Perez 49 laps 30:04.70
5. Scott Sidell 49 laps 30:32.62
6. Bart Collins 48 laps 30:00.03
7. Chad Olcott 48 laps 30:31.88
8. Gene Hickerson 48 laps 30:34.96
9. Anton Watson 48 31:10.88
10. Leon McIntosh 26 laps 15:27.00
11. Ryan Eckert 15 laps 11:48.43
12. Steve Szykulski 7 laps 4:18.62
Thanks to Gene Hickersen from VP Pro USA for the report.
---