February 6, 2009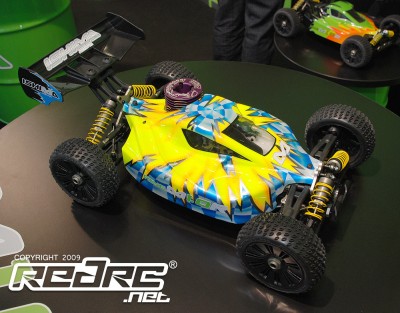 Ishima Racing, who made their debut at the fair last year, have some new interesting cars on their stands. First up is the upgraded version of their flagship M1.0R, which has been given the big bore treatment, as well as a new upgraded transmission, which we are told is unbreakable.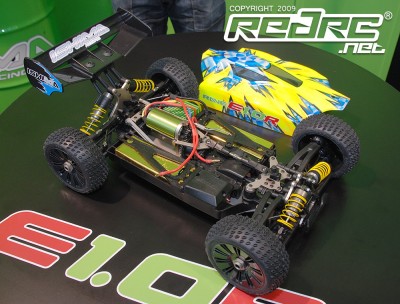 As with most other company's they now too offer an electric powered 1/8th scale buggy. Only taking over the suspension parts of it stable mate, the M1.0R, the rest of the car was designed from the ground up, with 3 different versions made, the one pictured above making the final cut. Because the car has been custom designed to carry an electric system, it is very well balanced as the layout has been optimized for this application.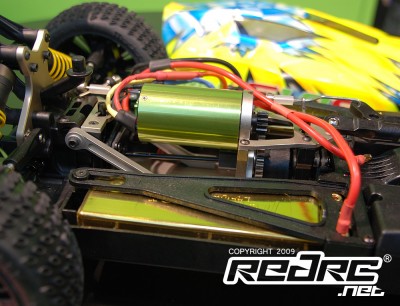 The car has twin pack support, with a pack mounted on either side of the car, while the motor is in the centre is position above the central main differential. The packs can be quickly and easily removed as can the front mounted servo and receiver array, making for quick and easy maintenance and cleaning. Ishima have chosen, after consultation with their team drivers, to go for a mechanical brake which utilizes the M1.0R's front and rear braking system. Available as a kit or RTR, the latter comes with an ATM speedo and cast metal gears.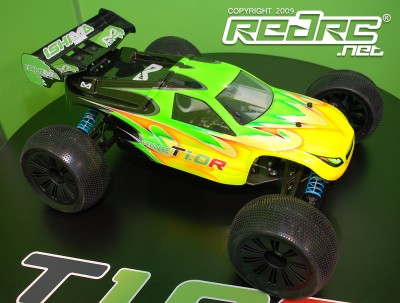 Another new entry for the Belgian company is the T1.0R truggy. Based again on their M1.0R plaform, the current car shown still has some prototype plastic, but will feature big bore shocks on what is a pretty conventional platform. Expect this car and the E1.0R to be released in 2-3 months where as the M1.0R is available now.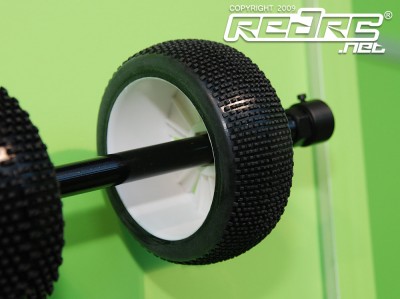 Seen on the same booth is Medial Pro, the tire company were displaying their entire range of rubber tires, which sport 2 new additions, the Viper and the Razor, which will go into production in a few weeks. Also new is the fact that they will be working on some new compounds, one such compound will focus on Astroturf surface.
Check out our image gallery embedded below.
---