March 29, 2009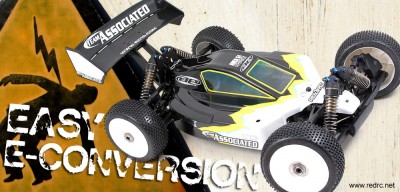 Converting 1/8 scale buggies and truggies gets bigger and bigger these days and Team Associated now offers a dedicated conversion kit to convert your tricky, oily, noisy and stinky nitro machine into a silent and easy to use weapon.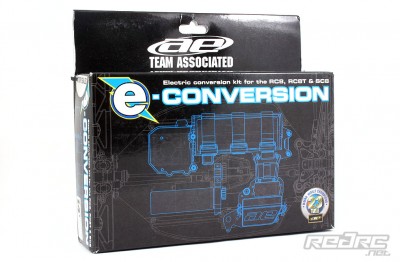 Associated RC8e-Conversion
The Team Associated conversion kit #80930 is designed for the use with AE's RC8, RC8T and SC8. Since we had a good used RC8 RS buggy around we opted to use it for the conversion. Beside the e-Conversion kit itself you need a new body for the buggy (not necessary but an idea for the RC8T and SC8 too) as the one you used on your nitro is blemished by the openings for the tank and the cooling head of the engine. Associated offers a dedicated body for the RC8e (#89523) that sports higher side pods to allow for better battery and speed control clearance. We weren't able to get hold of one so we used a new RC8 body that fits ok although it does not offer the clearance needed for the two 7.4v Hardcase Lipos.
Also needed to convert your RC8 is a motor and speedo that delivers enough power to propel the RC8e to nitro-like speeds. We chose the new Speed Passion Silver Arrow ESC and 8.5T Silver Arrow motor.
---