March 3, 2009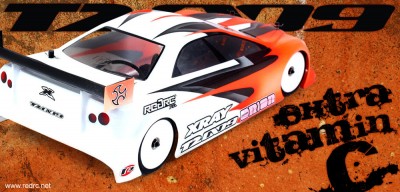 For some time now Xray is known as one of the most proactive manufacturers when it comes to enhancing the performance of their own products. While other companies stick with a design for many years it's a good tradition of the Slovakian manufacturer to update their products on a yearly basis. The best example is the T-line of electric touring cars, that for some time now is named after the year they are designed for. This tradition started in 2006 when the T2 '007 came out. At the end of 2008 the T2 '009 was introduced, and beside the change in name something new, at least for Xray, pleased the eyes of the strong Xray following: orange anodising.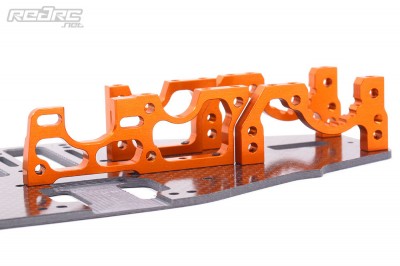 Front
When Xray showed the first preview pics of the new car it was obvious that it was no radical change as many hoped. It again was an evolution of things rather than a revolution. Its predecessor, the T2 '008 was such a good, and in many ways, perfect car that there was no need to radically change it at all. More care was taken to build the best 'out-of-the-box' racer out there and that's where all the efforts went into. Most of the parts remained the same compared to the '008 but many hours of thought went into things like tolerances, clearances and materials (according to Xray). That's why the '009 virtually looks the same like the '008. So where are those subtle changes?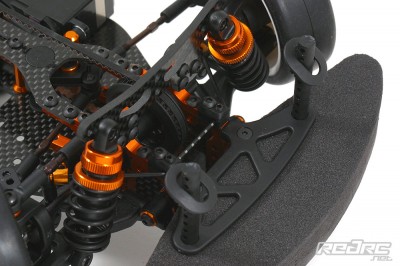 First and foremost: the colour of the front aluminium bulkhead, the various collars and the alloy parts of the shocks. More changes can be found on the drive pulley of the composite solid axle/spool as with the 2009 model a 34 tooth pulley is used instead of the larger 38T item used on the '008. The remainder of the front set-up seems untouched when it comes to geometry, dimensions etc. The '009 uses C2.8 springs and 1.6mm anti-roll bars up front. The remainder of the front set-up seems untouched when it comes to geometry, dimensions etc. The '009 of course still offers the possibility to adjust toe-in, roll-centre, kick-up etc. of the wishbones by adding shims or using different suspension holders.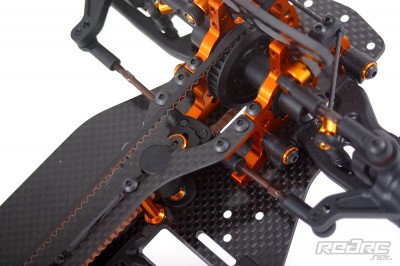 The '009 comes with an optional 2.5 mm carbon plate that can be located above the central servo saver. It raises the 2.0 mm top deck to allow for more clearance for hard case LiPo batteries. More of that later on.
---