March 14, 2009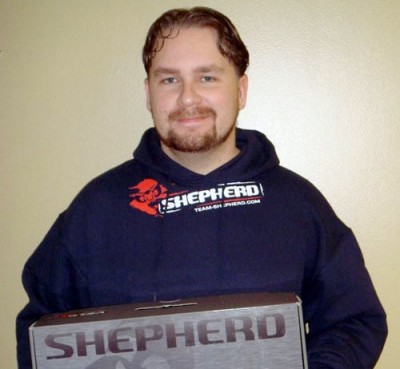 Shepherd Racing have announced that multiple US National Champion and multiple World Championship podium finisher Josh Cyrul has joined their international racing team. From now on Josh will use the Velox V8 for all 1/8th On-Road scale events and of course will also race with the upcoming Velox V10 as soon as it is available. As he has many years of experience with nitro on-road cars, his feedback will help the company finalizing the design of the V10 as well as improving the V8. Josh will attend all major US events, the Pre-Worlds and the World Championship in Lostallo. He has sent us the following statement:
Heading into the 2009 season and especially looking forward to the coming World Championships, I am extremely excited to join Shepherd Micro Racing. The Velox 1/8 car has already more than proven it's capabilities and I've been impressed with the car since the moment I saw it. Now, actually going through the kit and holding one in my hand I'm even more happy and looking forward to a great future with Patrick and everyone at Shepherd.
Additonally his company CEFX will take over the exclusive distribution of Shepherd Micro Racing products for North America. Soon the homepage will be updated with the full information about Shepherd products. We are sure that CEFX will guarantee a premium support for all Shepherd customers in the US. With the existing contacts to hobby shops all over the US, CEFX has the possibilty to ensure a wide parts availability.
Source: Shepherd [team-shepherd.com]
---