March 30, 2009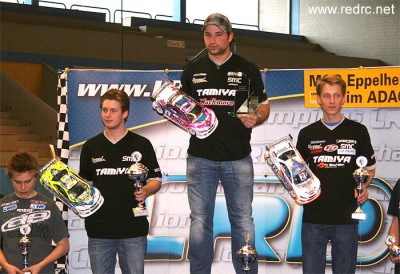 The annual LRP Touring car masters race took place last weekend in Eppelheim, Germany and attracted some of the big names in the industry to compete in the 89 strong Masters class for modified drivers. Qualification saw reigning World Champion easily claim the TQ spot after 3 of 4 rounds to line up ahead of Tamiya/SpeedPassion team mate Jilles Groskamp in 2nd, with Hot Bodies/LRP racer, and Vice World Champion, Ronald Volker 3rd. In the finals it was pretty straight forward for Marc, who won A-main leg 1 by nearly 2 seconds in front of team mate Viktor Wilck in 2nd, Xray driver Freddy Südhoff taking 3rd and a recovering Volker in 4th. In A-main leg 2 Marc once again lead away with Groskamp following and Volker in 3rd, pushing the Dutch man the whole way. Despite intense pressure, this was how it ended and Marc was declared 2009 Champion with 1 leg left to run. In the final leg it didn't go so well for the new Champion, who after only 2 laps made a mistake which dropped him down the order. This allowed Viktor, Jilles and Ronald to battle for the final leg win with Viktor leading the pack and the two behind battling it out for position. Ronald, after some big pressure, finally made a move and got passed the Dutch man, but trying to retake position the pair touched and Jilles regained 2nd, which was how it stayed giving Wilck, the new Swedish Champion, the overall runner up spot, with ETS Champion Jilles Groskamp taking 3rd, for a repeat of last year's Tamiya/SpeedPassion lock out of the podium.
Masters Class final results
1. Rheinard Marc [Tamiya/SpeedPassion] – 2pts (2:1, 1:1 [3:10])
2. Wilck Viktor [Tamiya/SpeedPassion] – 3pts (3:1, 1:2 [2:4])
3. Groskamp Jilles [Tamiya/SpeedPassion] – 4pts (2:2, 3:2 [1:8])
4. Völker Ronald [Hot Bodies/LRP] – 6pts (2:3, 3:3 [1:4])
5. Südhoff Freddy [Xray/GM] – 8pts (1:3, 3:5 [2:6])
6. Andersson Christer [Associated/LRP] – 9pts (3:4, 2:5 [1:11])
7. Wischnewski Dirk [Xray/LRP] – 12pts (3:6, 1:6 [2:9])
8. Graversen Steen [Kyosho/Team Orion] – 13pts (1:5, 2:8 [3:9])
9. Leino Teemu [Xray/Team Orion] – 14pts (2:7, 3:7 [1:9])
10. Harper Elliott [Xray/Nosram] – 15pts (1:7, 3:8 [2:10])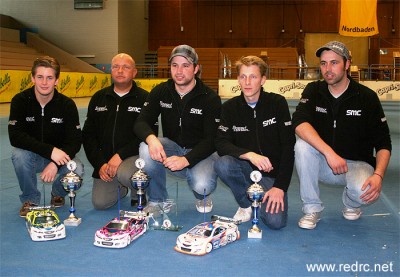 Full results can be found on the LRP Masters site here.
Thanks for Uwe Rheinard for the photos.
---