March 31, 2009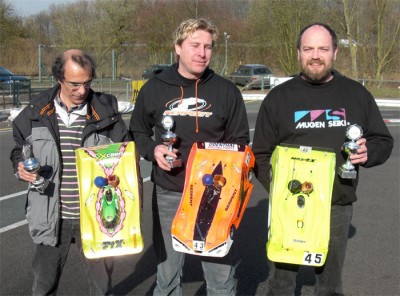 Serpent driver Frank Schewiola took a well deserved win in the season opener of 1/8 nitro on road in Germany, which was already round three of the 2008/2009 Western German Championship at Dormagen near Cologne. At the demanding track with its unforgivable barriers from concrete and real guard rails you really had to finish first to finish first, following the English saying. Frank Schewiola with his Mega powered Serpent did so as well as Tom Scheffler (Mugen/Mega) on second position did. Frenchman Alain Levy, a regular starter in Western Germany, took the third spot on the podium with his Mega powered Serpent. Others like Michael Salven, Karl-Heinz Meister, Tobias Hepp and Chistian Wurst didn´t manage to come through the 30 minutes finale and hit the wall of shame on the same place.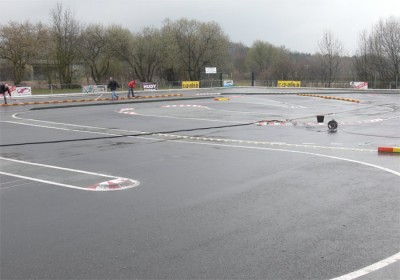 Bad weather did not only hamper most of the rc racing enthusiasts to test before the first race but rain and low temperatures on Saturday and Sunday didn´t give best conditions to the racers. Practise was limitid to 2.5 hours on late Saturday afternoon. On Sunday heat one to three were washed out by a wet track again while most of the drivers went into competion in heat four after an early lunch brake to step into competition. Young Tobias Hepp with very very soft tyres on his Mega powered Serpent 966 took TQ in front of Alain Levy, Michael Salven and Karl-Heinz Meister. The semi finale was won by Motonica newcomer Christian Wurst who gave the brand new P81 a promising debut.
The top 10 of class 1
1. Frank Schewiola, 104 laps – Serpent / Mega / Xceed
2. Tom Scheffler, 92 – Mugen / Mega / RPM
3. Alaion Levy, 83 – Serpent / Mega / Xceed
4. Andreas Weyhoven, 83 – Kyosho / Team Orion / Xceed
5. Ingo Odenthal, 81 – Serpent / Novarossi / Xceed
6. Uwe Baldes, 60 – Motonica / Team Orion / Cosmic
7. Tobias Hepp, 41 – Serpent / Mega / Xceed
8. Karl-Heinz Meister, 34 – Serpent / Mega / Xceed
9. Michael Salven, 30 – Serpent / Mega / Xceed
10. Christian Wurst, 2 – Motonica / JP / Matrix
In class 2 Dirk Drechsler (Mugen) took TQ but Ralf Billstein (Mugen) as the overall winner booked the maximum points on his championship account. The friendship race in the 1/10 nitro class was won by Danel Toennessen (Mugen).
---