March 7, 2009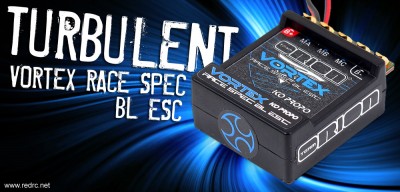 A few weeks ago we published the test of Team Orion's 'budget' speed control Vortex BL. Within this test we teased Orion's upcoming 'Race Spec' speedo that was introduced during last years On-Road World Championships in Thailand. The Race Spec is available now and here's what we think of it.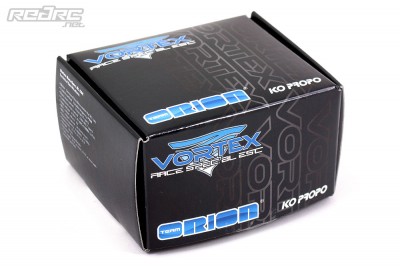 Black Box
The Team Orion Race Spec speedo comes in a handy black cardboard box that is known from other Orion parts like the Vortex line of brushless motors. It contains the speedo itself and the multi-language manual in form of two sheets of paper. If you buy the so called '2.5T' version of the controller (#ORI65007) you also get a heatsink and an optional fan. We'd been send the Race Spec '4.5T' without fan or heatsink. No further items are included in the package, like optional capacitors, wires etc.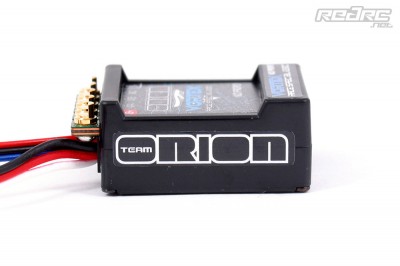 Given that the Race Spec is a competition speedo its dimensions are relatively small. Its 33 mm wide, 42mm long (including solder tabs) and just above 21 mm in height (without the optional heatsink/fan). The wires for the switch and the receiver are of a reasonable length with 60 mm for the switch and 140 mm for the receiver wire. They are short enough for a proper wiring in on-road chassis and long enough to make sure you do not run into trouble with 2WD off-road cars and trucks.
Parts quality is perfect as you would expect from a joint venture of Team Orion and Japanese electronic specialists KO Propo. The stickers are nicely printed and you even get extensions on the solder tabs so you do not have to solder on the board directly. No wires are supplied with the speedo unfortunately but Team Orion offers their own range of silicone high-flex wire in 18, 14 and 12 AWG.
---