March 19, 2009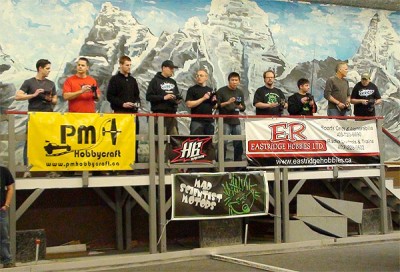 Finishing off an exciting year of indoor carpet racing, the Western Canadian Indoor Championship Series had it's final stop at the CarCar RC club in Calgary, Alberta, Canada. The series has had stops in Calgary, Edmonton and Lethbridge, Alberta, and Regina, Saskatchewan. There was over 100 entries for the 4 day event, with practice Thurs evening and Friday, and qualifiers and mains on Saturday and Sunday. We received the following report from the event.
Almost all the series championships were on the line, with close battles all season long in 1/10 Touring Car Stock (17.5 brushless) and Superstock (13..5 brushless), 1/12 Mod and Stock, Tamiya Mini and GT. The new World GT cars ran as a demonstration class, and are approved as a full points series next year. New this year was a spec rubber tire for the 1/10 Touring Car classes, switching from foam the previous year. Jaco Prism Blue Rubber tires were chosen as the best combination of excellent grip, outstanding longevity, and good value. CanWest RC, importer of Jaco, made sure all the races were supplied with tires, and the feedback was tremendously good. Drivers were very happy with the performance of the tire, the grip, and after running an entire weekend on one set, still had life for several club races.
1/10 Superstock: The only class to have a clear winner going into this weekend with Hot Bodies/PM Hobbycraft Sponsored driver Peter Tozser impressively TQ'ing and winning every Superstock event so far; a feat he repeated at CarCar for a perfect season. Congrats Peter! Canwest RC/Mad Scientist Motors driver Dwayne Flodell edged out another Canwest RC driver, Nathan Fucile and his Xray, for second and third, with just one point separating the two.
1/10 Stock: This class was much closer, with CanWest RC owner Korgae Scales and his Xray 009 in the points lead by a single digit over Dwayne Flodell coming into the final race, and sitting at TQ after 3 rounds of qualifiers. Then X-Ray/CanWest RC driver Adam Glatt pulled off an impressive last round TQ, putting him on the pole. In the mains CanWest RC driver Dwayne Flodell took the checkered flag and the series top spot, with Korgae Scales in second, and Canwest RC/XRay driver Nathan Fucile in third.
1/12 Stock: It was a super tight race in this class, with Kurtis Ruston and Kevin Phillips tied in points at the end of 4 rounds. At the final round debuting his XRay XII for the first time, Korgae Scales took TQ and win. Overall, Kurtis emerged the overall class winner based on race wins, with Lance Radke rounding out 3rd.
1/12 Mod: Ryan Babcock put his 1/12 on pole, and took the checkered flag, but it wasn't enough to overcome Kurtis Ruston's series points lead and Kurtis took the big trophy home, with Ryan nailing second. Mike Bridges, missing second by just one point, finished on the third podiums spot for the year.
Tamiya Mini: In this spec class it all came down to driver skill and car setup, and in that regard local CarCar driver Peter Tozser almost pulled off another perfect season, TQ'ing all 4 rounds, winning 2, and taking first place over Stuart Leckie who took the other 2 checkered flags of the year. Consistency put Chris Langley in a strong 3rd place.
GT: 1/10th chassis with a silver can motor made for some close racing, but in the end it was Lance Radke taking home the big hardware. In yet another close battle Chris Langley's win at Calgary put him just one point ahead of Randy Weichel for second and third respectively.
World GT: This demonstration class garnered a lot of interest, and drivers had a great time. It looks to be a big hit for next year, with strong manufacturers support and new chassis being released for this class almost weekly. Stuart Leckie took home the demonstration class win, making him a strong favorite for next year. Karting legend Gary Lanzer from Saskatchewan took home second, and Dale Ruptash followed up in third.
CarCar would like to thank it's premier sponsor shop, PM Hobbycraft (www.pmhobbycraft.ca), as well as additional prizes sponsored by Eastridge Hobbies (www.eastridgehobbies.ca), and strong series support from CanWest RC (www.canwestrc.net), as well as Mike Evans, Race Director, for running a great weekend; finishing early! on Saturday, and right on time Sunday. The weekend was great due to the efforts of many, many people, and we thank each and every one of them for making this hobby great!
The final series standings can be found here.
Report by Josh Carter.
---