March 15, 2009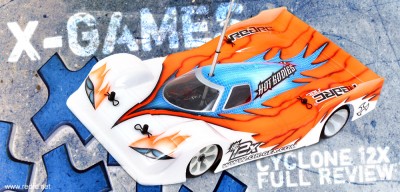 The Hot Bodies Cyclone 12x is the updated version of the European Championship-winning Cyclone 12 chassis and although the indoor season in Europe comes to an end for the moment we would like to introduce this car to you. As with nearly every competition car the HB Cyclone 12x comes un-assembled and without body and tyres. A nice touch is the addition of the Hot Bodies dish rims that make for an unusual look since most of the current 1/12 scale rims are of a spoked type. The 12x is based on the Cyclone 12 and received some more or less visible refinements to make for an even better 'circuit racer' as Hot Bodies calls their on-road car.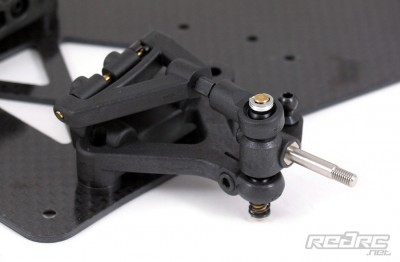 Front
The front of the car is where Hot Bodies made most of the changes. The 12x still uses the well-known reactive caster front end most of the 1/12 scale chassis use but the new lower graphite reinforced wishbones incorporate a screw to clamp the lower pivot ball to adjust the amount of play of the steering knuckles. The caster angle is adjustable via the caster block and different clips to move the upper wishbones forward or backwards to change the overall caster between 0 and 10.5 degrees. New parts with the 12x are the updated steering knuckles that allow for the use of smaller tyres. They are equipped with new off-set wheel axles. Another new part is the FRP brace that can be used optional to stiff up the front end for a more precise steering feel especially on high traction surfaces.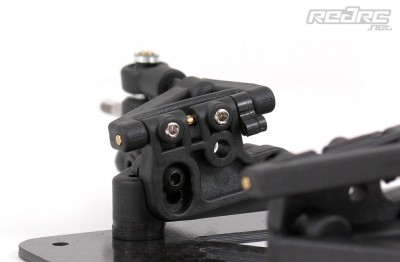 Ride height is adjustable via four shims underneath the lower wishbones. Unfortunately these shims are a fiddly affair to change and we would like to see slotted one piece plates like offered from various aftermarket companies.
New with the Cyclone 12x is a large plastic bumper that not only offers some protection for the front end but also safes the 2.0 mm chassis plate from cracks and slitting issues normally associated with pan cars. Titanium-nitride coated hinge and kingpins give a maximum of strength while offering super smooth suspension action thanks to the slick surface.
---