April 20, 2009

Top drivers from Australia converged towards the John Grant International Raceway in Sydney's west for a taste of what was to come later in the year for the National titles at this venue (Moorebank Raceway). The NSWRCRCC, invested their funds into track resurfacing and with the help of their committed members, exceeded the expectations of the racers attending. A new laid, silky smooth bitumen surface was kerbed with official sky blue transitions, uniform and inviting throughout the track. The false sense of being nursed by these delightful kerbs, revealed the wicked grass that seemed to pounce onto a shell and capture it within it's stringy mesh. It was understandable, the club recently laid the grass, rain in Sydney also added to it's volume, it was impartial to all scales without bias.
Free Practice
Tuesday's free practice reported Simon Nicholson fastest on track. With many teams arriving Wednesday, an early mix of tourers and eighths set out on track with caution. As the morning progressed as did the speed, Chris Reade was putting his skills to work with his Mugen and laying down some very hot laps with the JP engine, while Simon Nicholson was steering his Sirio power quickly through the turns.
With a mix of 1:8 and 1:10 cars sharing the track, competitors found their way around the circuit relatively unscathed. The locals were getting a feel for the new layout and surface and interstate drivers experiencing this very fast track for the first time. The garages filled with rumblings as teams adjusted their setup for this very fast and smooth track, engines were at the mercy of the long front straight, tire wear was incredibly low and speeds were steadily increasing.
[vimeo]http://vimeo.com/4180067[/vimeo]
Thursday Controlled Practice (5 min heats)
By day three, the formal event commenced with controlled practice. Many drivers were still familiarizing their way around while everyone else was lowering lap times. The track was improving and the eighth leaders were Simon Nicholson, Chris Reade and Michael Kerr, all on 19 laps, with Michael Kerr posting 16.914s fastest lap. In tourers, Dallas Gardiner (fastlap 17.893s), Ryan Maker on 17 laps and Peter Jovanovic on 16 laps with several drivers in the top ten posting comparable fast laps as well.
Friday Qualifiers Rounds 1 – 4 (5 min heats)
Rounds 1-4 of the 11 heats, began drivers meetings and usual formalities and promptly commenced with lower heats struggling with the moist grass from the overnight dew. As the heats continued, traction improved and the top 5 runners in 1:8 scale were circulating in 19 laps, with sub 16 second fast laps. Michael Kerr leading the field with a fastest lap of 15.690s, many drivers posted best times in the afternoon rounds 3 and 4. The top ten 200mm tourers were posting sub 18 second laps with Jesse Davis leading the field with a fastest lap of 17.467s. The Pullstart class was a single heat field, with the top 5 positions tightly contested. Shaun Kaltenbacher lead the field of 11 Pull Start cars with 15 laps and fastest lap in round 4 of 19.232s.
Saturday Qualifiers Rounds 5 & 6 (5 min heats)
With showers overnight, the track was slick and few managed to gain position in the morning heats. The final rounds of 1:8 brought Chris Reade to the fore, Michael Kerr and Simon Nicholson were both within reach with Steven Jovanovic, Jeff Hamon, Stuart Grant making up the top six on 19 laps.
The 200mm grid was tight, less than one second separating the top 4 drivers and top 15 drivers on 17 laps. Jesse Davis retained his lead and bettered his fastest lap with 17.467s, 5:00.395, Peter Jovanovic 17.411s fastest lap, was in close pursuit with 5:00.967.
In pull start, Nathan Ryan moved up into the leading position taking his car into 16 laps, 18.853s fast lap, 5:09.834. Shaun Kaltenbacher posted the fastest lap 18.727s.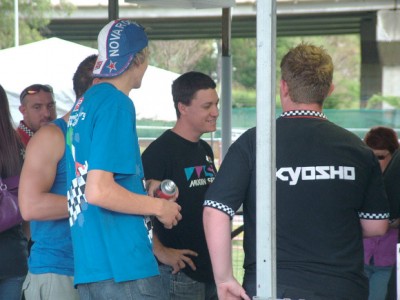 1:8 A Finalist – Top 4
1. Chris Reade
2. Michael Kerr
3. Simon Nicholson
4. Steven Jovanovic
1:10 – A Finalist – Top 4
1. Jesse Davis
2. Peter Jovanovic
3. Wayne Walker
4. Steven Jovanovic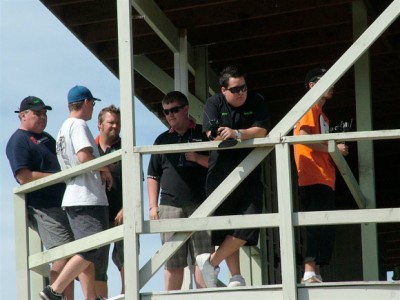 Preliminary Finals
In the 200mm semi finals, Ryan Maker lead the charge along with Darren Campbell, Andrew Bardetta and Dallas Gardiner. Kyle Hazel and Ashley Steward completed 62 laps and edged out Phil Woodbury and Tommy Lee to make up the final grid.
Jesse Davis lead the 1:8ths with a 71 lap semi final and fast lap in the low 16's with Jeff Hamon, Stewart Grant, Kane Alderton, Tim Westwood and Jason Dorn taking the final place 2 laps ahead of Michael Turner and team mate Michael Redmond.
A Finals
As the end of the event drew for many of the competitors, attentions were drawn to the high quality grid and the fierce racing that lay ahead. Throughout the event the track's ability to handle the power had raised a healthy engine repair bill in the garages, it was irresistible and fuel proved to be a precious commodity towards the end of each heat. Race strategies brewed in the pits and the drivers were in readiness for the thirty minute finals that lay ahead.
Weather was fine, air temp +20c, track dry, traction good/better.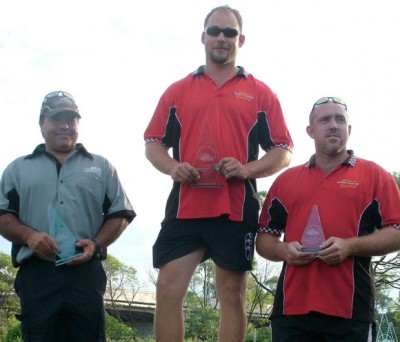 1:10 – Pull Start (30 min final)
Winner Brett Quarm drove a consistent race ahead of Steve Valetta, Shaun Kaltenbacher and Chris Stanley. The top four encountered mid race problems, Brett Quarm recovered quickly while others lost time regaining their rhythm. Steve Valetta's times were slipping and Kaltenbacher pounced on an error took 2nd with ten laps to go, Valetta recovered and forced an error regaining his place. Brett Quarm drove to the finish with 81 laps, 30:06s. Steve Valetta 2nd 76 laps and Shaun Kaltenbacher 3rd 75 Laps.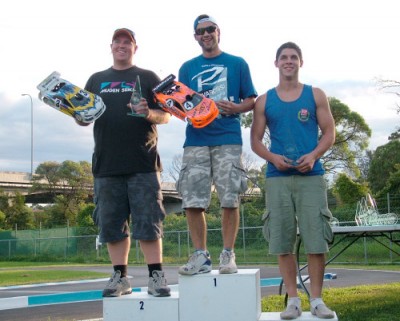 1:10 – 200mm (30 min final)
An almost clean start had two middle order tangle in the sweep while the remainder of grid maintained their starting order. Jesse Davis in the lead, Peter Jovanivic in 2nd, Wayne Walker in 3rd and brother Steven Jovanovic in 4th. The top four began opening a lead until the fifth lap, Peter Jovanovic inside of Jesse Davis dicing for position, PJ was whisped into the grass and Davis lost a few seconds in the tangle as well.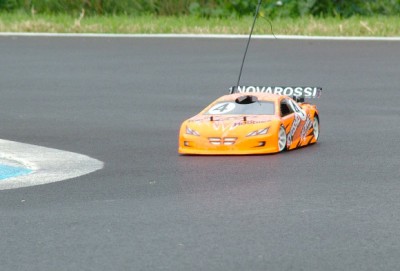 The door opened wide for Steven Jovanovic and Wayne Walker, both taking the opportunity and used it to its fullest. Steven's Jovanovic had the speed and posted the fastest lap of 17.369s at lap 61 and Wayne kept close behind with his tight efficient driving. Wayne's low deviation and pinching laps was to earn him one less fuel stop. Steven was inching forwards each lap and gaining valuable time in the pits to establish only a moderately small buffer.
While the two leaders were testing each other on the same lap, Peter Jovanovic and Jesse Davis were in pursuit, both managed threading through the field without major incident. Peter managed to get back a podium position, Jesse pulled off track at the end of pit lane and later disintegrated his clutch bell forcing him out of the race. Ryan Maker was consistent and improved his position up to 4th place. Steven managed to maintain the ten second lead and hold off Walkers consistent performance and cross the line take the win in a perfect race by both drivers.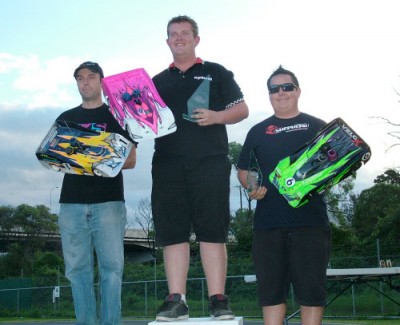 1:8 (30 min – final)
There was a distinct battle of the engines on track, Novarossi were the flavor of the week for most, Simon Nicholson was Sirio powered, Chris Reade and Michael Kerr opted to use JP Racing engines. Shell choice and preparation was important, light evening rains increased humidity and air mass, the smooth track lent itself well to optimal aerodynamics and tire wear was unbelievably low. Track condition was fast and clean for the start, weather was fine, spectators rose to their feet as the cars lined up for a Le Mans start with Chris Reade in pole position posting a qualifying time of 19 laps / 5:01.999s / 15.686s fast lap.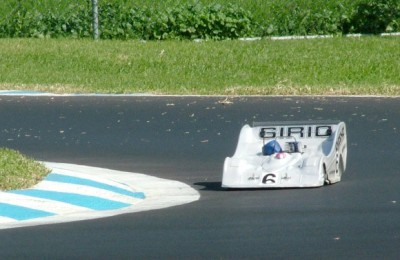 Cars launched to a perfect start, Chris Reade took the hole shot and began to demonstrate his speed on track immediately. Michael Kerr followed in suit with sub 16s laps as did Simon Nicholson as the top three began to open a gap and dominate the field. Nicholson was fast and stealth like on track matching Chris Reade's times lap for lap and same pit strategy, Kerr and Hamon were on earlier stops. Jeff Hamon made himself track space room and put in consistent times and keep in the mix with the three ahead. The pace was magnificent, it magnified a half second difference into a giant gap, the RC community was immersed in a haze of racing fuel and high speed engines singing an alloy tuned song.
At lap 41 with Nicholson close behind Reade on track, a passing incident lost a handful of seconds for Reade and the race swung into Nicholson's hands. Reade regained composure and continued his pursuit of Nicholson, but the Kyosho / Sirio was holding it's own on track and crews were equal to the task in the pits. Kerr was haunting the two leaders on track but fell short of the finish and allowed Jeff Hamon through for the third place on the podium, Simon Nicholson and Chris Reade held their positions to the finish line.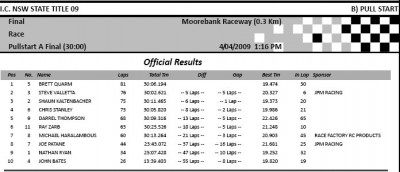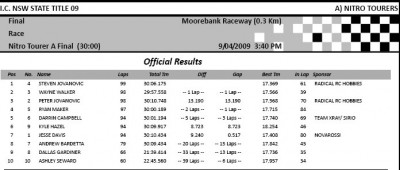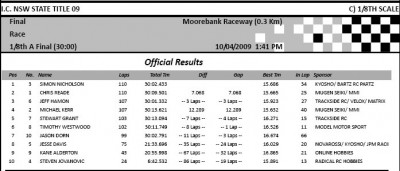 Thanks to Harry Sinanian for the report.
---