April 13, 2009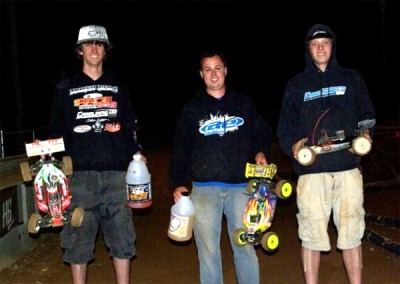 JConcepts are reporting on round 1 of the North Carolina Championship series that kicked off last weekend at WCRC in Wilkesboro, NC. Strong storms came through on Friday night and delayed practice and the start of the race, however spirits would not be broken and a good crowd was on hand to enjoy some great racing action. The track crew did a fantastic job getting the track race-able, and all three qualifiers were able to take place. Pro Buggy saw a great battle with the top three drivers all fighting for the top spot with less than 2 minutes to go in the main. This battle saw Barry Pettit leading late, with Alex Birmingham (TQ) and Chris Pace in hot pursuit. Each driver led at one point during the closing laps, but at the finish it was Chris Pace taking the win, followed by Barry and Alex. During the early heats while the track was soft and loamy, Pace preferred Crowbars in blue compound, and for the mains as the track packed in, the Double Dee's proved to be the winning edge needed.
Pro Buggy results
1. Chris Pace – AE/Reedy/JConcepts
2. Barry Pettit
3. Alex Birmingham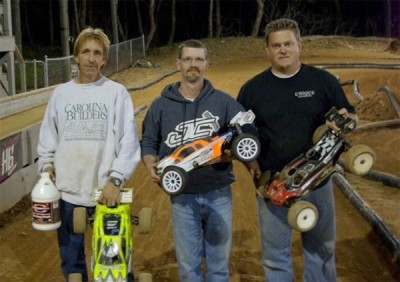 Greg Smith was the man of the night in the truggy class, taking the win in convincing fashion. Greg's tire of choice were Goose Bumps in blue compound, and Greg commented that he was able to run the same set of tires throughout practice, 3 qualifiers and the main event without any loss in performance or wear.
Pro Truggy results
1. Greg Smith – Losi/Ninja/JConcepts
2. Joey Edwards
3. Steve Efird
Source: JConcepts [jconcepts.net]
---