April 7, 2009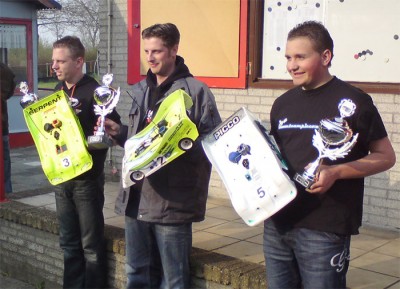 The opening round of the Dutch 1/8th scale season took place at the weekend on the fast Rucphen track in the south west of the country. The day started with some fog in the air which gave the engines a lot of power, and this made the first heat the quickest for many drivers. Rick V was on a super quick run, but he had to stop for fuel and this allowed John Ermen, who was driving more conservatively and so didn't need to stop, take the pole spot by a second in front of Rick, with last years NOMAC Champion Jordy Block taking 3rd. In the main final John Ermen had to retire, and so Rick, who was leading at the time, won unchallenged by 2 laps ahead of 2nd placed Rick Veenma, with Jordy Block taking 3rd.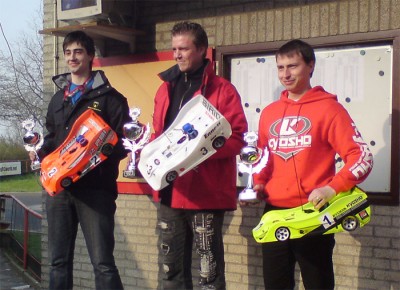 In the NOMAC class, there were some top drivers coming from Belgium entering the Dutch competition and they dominated the NOMAC group the whole day. Gunther v Staey managed to take pole followed by Robin D'hondt and Steven Cuypers. In the main final these 3 drivers were close to each other and sometimes swapping places but in the end it was Steven that took the win followed by Gunther. Robin had some engine problems but managed to keep the 3rd place.
Thanks to Roelof Toems for the report.
---