May 5, 2009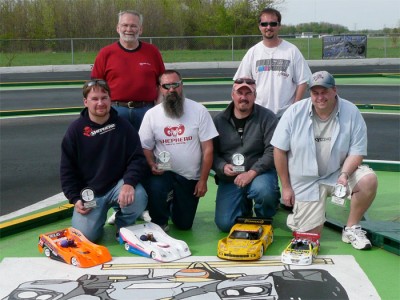 Celebrating its 40 year anniversary, the Midwest Series is the oldest on road racing series in the world. To start their 2009 season, the first event was held in Toledo, Ohio (USA) host to this year's ROAR US Open Nationals in September. With over 80 entries and picture perfect weather, the One Eighth Racers of Toledo hosted an outstanding event. Consisting of 8th open, 8th Masters, 1/10th Touring, and GT classes the Top qualifiers were Bobby Flack (Xray) in 1/10th Touring, Mike Cooper (Kyosho) in GT, Eli Ezrow (Shepherd) in 1/8th Masters and Josh Cyrul (Shepherd) in 1/8th Open.
During the mains, 1/10th Touring car saw Bobby Flack lead the way early on until a technical issue ended his chance at a win. Andy Power (Kyosho) grabbed the lead and headed home for the win with 2nd place went to Rick Vessell and 3rd went to Andrew Ellis. In the GT class, Mike Cooper was driving the latest Kyosho car and had it working flawlessly and took a lead that no one was able to match up to. Second place finisher was Gary Waldhelm and 3rd place completed the podium with Karl Ennulat. In the 1/8th scale the Masters class and Open guys are all run together with the Masters being scoring series points separate from the open guys. In the 1/8th final, pole sitter Josh Cyrul (Shepherd) led with Paul Ciccarello following closely behind. When the chequered flag fell, Josh won by 4 seconds over Paul with Brian Berry completed the top three. Eli Ezrow (Shepherd) grabbed 5th overall in 1/8th open but was the highest Masters racer and took the Masters win at the first event of the season.
The next race for the Midwest Series is set for May 30-31 in Racine, Wisconsin. For the latest news about the Midwest Series, visit www.midwestseries.com.
---