May 15, 2009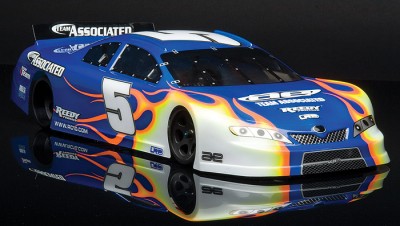 Team Associated have just announced the new RC10R5-Oval Factory Team Kit, due for release in June. The 10R5-Oval is built on a 2.5mm woven carbon fibre chassis that utilizes a T-plate and 3-shock setup to suspend the newly designed rear pod. Optimized for brushless, the new rear pod features a 3-point upper pod plate with an aluminium stand-off that increases stiffness and dissipates heat by transferring the heat from the motor mount to the left rear bulkhead, keeping the motor cooler throughout the run.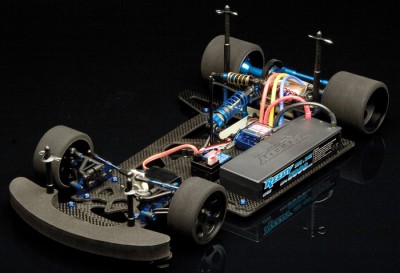 Imperfections in the road are managed by the Factory Team side shocks that feature a through-shaft design making for equal damping with no rebound in both directions. A VCS2 bladder style center shock provides consistent damping and easy maintenance while keeping all the power on the ground. The center shock tower has four mounting positions that split the spring rates for even finer adjustments. The RC10R5-Oval's "Active Strut" front end has been optimized, featuring symmetric components with adjustable caster and track width, as well as in-line axles. The carbon fibre front arm mounting plate makes for a stiffer assembly. Indexed wheelbase options with an automatic 0.5mm (0.020") trail in right front wheel improving the corner exit steering response.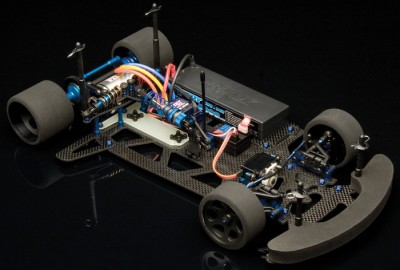 Factory Team blue aluminium servo mounts position the servo flat on the chassis for a lower center of gravity and include Ackermann adjustment spacers. The foam front bumper helps protect body and chassis during impacts. The RC10R5-Oval rolls fast and smooth on a full ball-bearing drivetrain featuring a ball differential with D-rings and an IRS graphite rear axle.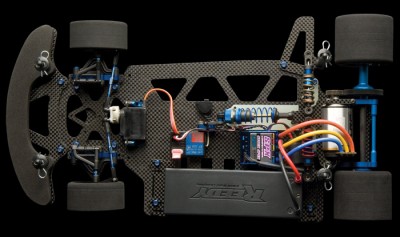 RC10R5-Oval Factory Team features:
– Updated active strut front end features symmetrical components with independently adjustable caster and track width, as well as in-line front axles
– Woven carbon fibre front arm mounting plate makes for a stiffer front end assembly featuring Indexed wheelbase options and an automatic 0.5mm (0.020") trail in right front
– Newly designed rear pod features a 3-point upper pod plate with an aluminium stand-off that increases stiffness and dissipates heat by transferring the heat from the motor mount to the left rear bulkhead
– 3-point upper pod plate is more open, allowing easier access and installation of brushless motors
– Full ball-bearing drivetrain
– Ultra-rigid one-piece 2.5mm woven carbon fibre chassis allows for both LiPo and NiMh cells, featuring indexed battery adjustments for LiPo packs
– Factory Team side shocks feature a through-shaft design making for equal damping with no rebound in both directions
– VCS2 bladder style center shock provides consistent damping and easy maintenance
– Woven carbon fibre center shock tower allows for incremental adjustments of rear spring rate
– Ball differential and IRS™ graphite rear axle
– Foam front bumper helps protect body and chassis during impact
– Servo mounts flat for a lower CG and includes Ackermann adjustment spacers
– Updated T-plate sockets and hard-anodized aluminium pivot balls give the 10R5-Oval a lower rear roll center for better rear traction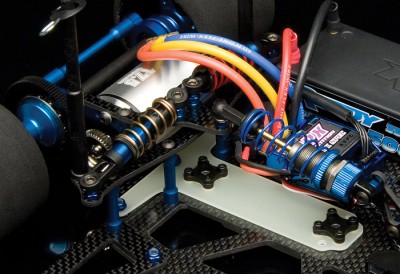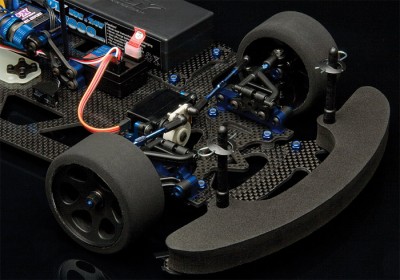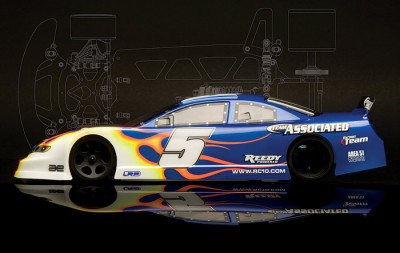 Source: Associated [rc10.com]
---