May 27, 2009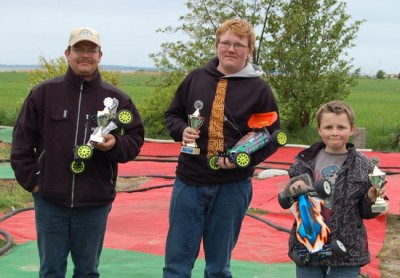 The opening round of the DRCMU Danish electric buggy National Championships took place recently in Aalborg, in the north of the country. In the Stock class Martin Kristensen, was almost without resistance after Jesper Rasmussen chose for new challenges in the modified class and then Sebastian Sørensen had problems with electronics just before the start and had to use its spare equipment and a borrowed motor and after that Sebastian didnt have the speed to catch up Martin and only incidents could put Martin out of the game.
Martin would start from pole and was untouchable in the first two finals.
Result after 3 finals:
1. Martin Kristensen
2. Sebastian Sørensen
3. Per Eriksen
2WD
Unfortunately several drivers had switched to 4WD class and the battle for pole position was instead between Christer Rasmussen and Rene Jespersen. Over the winter Lars Kristensen had switched to the X-Factory X6 and is still learning the car and could not quite follow Christer and Rene.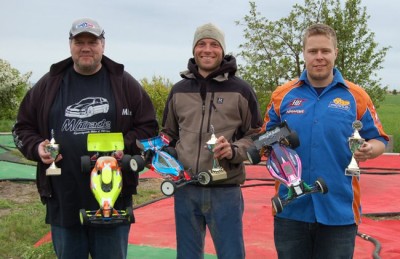 Results after 3 exciting finals with 3 different winners were.
1. Christer Rasmussen
2. Rene Jespersen
3. Lars Kristensen
4WD
With over 20 participants 4WD was the largest class and a few new faces were also on the start list, Mr Danielsen has made a comeback after several years absence, but he lacks have been a little routine in my fingers again, even though he is running for Proline Cup in Vejle in winter. Jonas Kærup have chosen to put Touring Car'en aside for a moment and will focus on 4WD and as in Touring Car he chose Tamiya and his colleague Søren Eskildsen from Touring Car also made up in a 4WD with a Schumacher CAT SX.
The qualification had several surprises, Thomas Mikkelsen could not made the A-finals and would start from third spot in the B-finals just after Søren Eskildsen and Christer Rasmussen. 2008 Stock Champion Jesper Rasmussen reached the B in 8th and last spot but could run up an overall fourth place after the three finals. Thomas Mikkelsen won the B-finals in front of Christer and Søren Eskildsen
4WD has never been Jonas Kærups favorite class and with a lightning fast Kim Nielsen they both were fighting for pole from the first round, Jonas could draw the longest straw and would start from the pole and could pick up 1 point for pole position. In the finals Jonas took a clean sweep and won all 3 finals.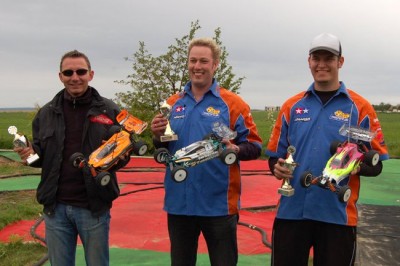 4WD result:
1. Jonas Kærup
2. Kim Nielsen
3. Lars Alex
Source: Race Gallery [racegallery.dk]
---