May 4, 2009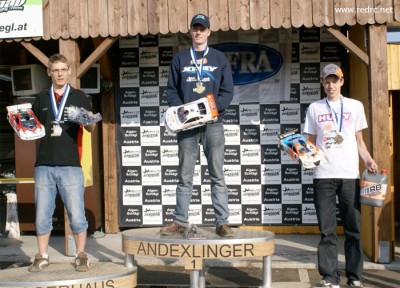 Following qualifying on Friday and Saturday for this year's European 1/10th scale 'B' Championship in Austria, Sunday say the main finals get underway to decide who would claim the 2009 title. At the start of the 45 minute final Gerhard Kandelhart and Freddy Südhoff got off to a clean start and started to make gap on the rest of the field, also having the advantage of only needing to refuel every 6:45. Around the 13 minute mark Freddy managed to get passed Kandi to take the lead and began to pull a gap and at this time the leading pair had a lap advantage on the rest of the field. Later in the race Rico Kröber, who was in 3rd, started to decrease the gap to Kandi and managed to unlap himself to get back on the lead lap and following some quick laps he managed to catch Kandi again once more, this time for position with 3 laps to go. Going into the fast sweeper, the pair touched and Kandi went off and flamed out, something which would lose him the podium position, dropping to 4th by the time he restarted. This incident moved Daan Jacobs up to 3rd behind Kröber in 2nd, with Freddy Südhoff clear up front to take the European title.
Main final results
1. SÜDHOFF Frederik (DE) – 150 Laps in 45:04.256
2. KRÖBER Rico (DE) – 150 Laps in 45:11.017
3. JACOBS Daan (NL) – 149 Laps in 45:14.067
4. KANDELHART Gerhard (AT) – 148 Laps in 45:04.020
5. KALARIS Mathias (FR) – 147 Laps in 45:10.517
6. SCHUMANN Benjamin (DE) – 146 Laps in 45:01.313
7. PÜPKE Rene (DE) – 146 Laps in 45:13.674
8. MARTINI Francesco (IT) – 145 Laps in 45:07.679
9. MAYRHOFER Stefan (AT) – 138 Laps in 45:00.043
10. RENAUX Jerome (BE) – 136 Laps in 45:11.484
View the full final results here.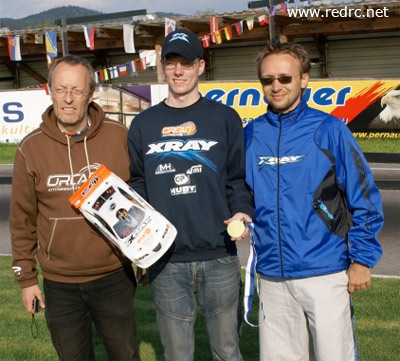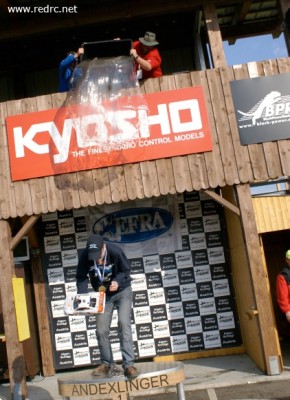 Thanks to Fedor Eskes for the photos and Csekő Gergely for the info.
---