May 7, 2009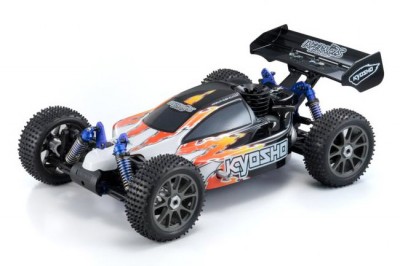 Kyosho have announced the August release of the new Inferno MP-7.5 Sports 4 Readyset. The package includes R/C system with linkages pre-set and all main parts pre-assembled so its fast out of the box as well as on the track. Simply attach the air cleaner and antenna, add fuel and set the batteries to complete. The Inferno's blood runs thick in the Sports 4 so you can't go wrong for your first GP buggy. Turnbuckle tierods and upper suspension arms allow wide scope for setting adjustment. Equipped with high-torque servos and universal joints on front axles to handle whatever punishment you can dish out.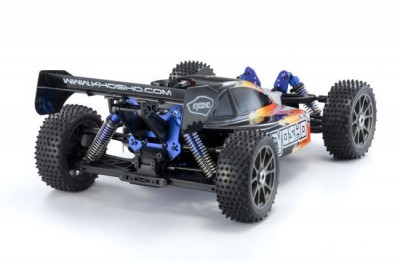 Features
– World Championship Quality – The suspension features double A-arms, which is the same type of suspension used on the world's most sophisticated performance machines. It's adjustable and durable, so you can tune the suspension for better performance and have the confidence that it's going to hold up even under extreme conditions.
– Standard 17mm Hubs – Now you can use all standard 17 mmm wheels.
– Endless Adjustments – The suspension and steering linkages feature turnbuckles, which allows for quick adjustments to the camber and steering toe angles. All that's needed is a 5.5mm wrench to make any adjustment on the spot – there's no need to detach or move anything to facilitate an adjustment.
– Hardened Gears – Front and rear diffs use machined, hardened steel spiral ring and pinion gears.
– Full Ball Bearings – Full ball bearings throughout for maximum efficiency through the drive system.
– High Performance 2pc. Clutch – High performance teflon clutch shoes.
– Rear Torque Rod – Now equipped with a rear torque rod for increased durability!
– Tough Buggy – Factory-assembled chassis shares the same tough characteristics and low center of gravity as the World Championship winning Inferno 7.5
– 4WD – Shaft-driven 4WD chassis with three differentials.
– GX21 – Equipped with Kyosho's reliable GX21 engine with a New larger black anodized cooling head.
– KT-6 – Futaba influence KT-6 transmitter.
– Universal Swing Shafts – Equipped with Front Universal Swing Shafts for more of an efficient drive train.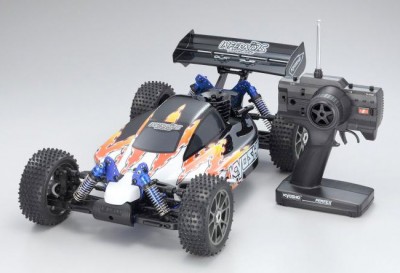 ReadySet Contents
– Factory assembled chassis with pre-adjusted linkages
– Special manifold and muffler
– Pre-painted with stickers pre-attached on completed body
– Pre-Installed Perfex KT-6/2-ch 2-servo (KS-102BK servo spec.)
– Pre-installed GX21 engine with recoil starter
– Glow igniter
– Fuel bottle & Cross wrench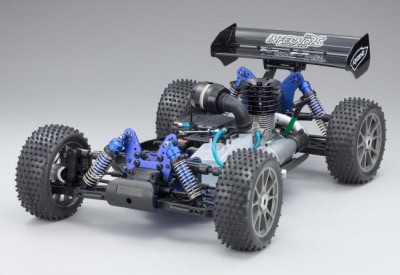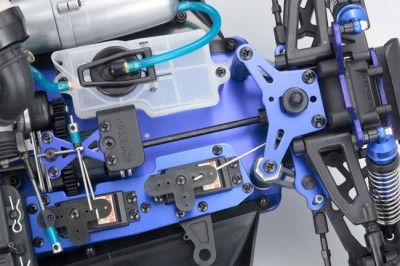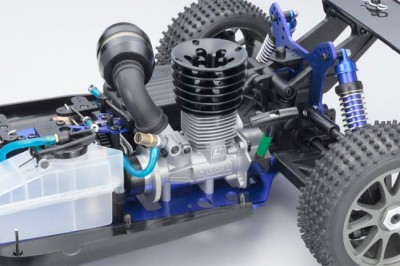 Source: Kyosho [kyoshoamerica.com]
---