May 26, 2009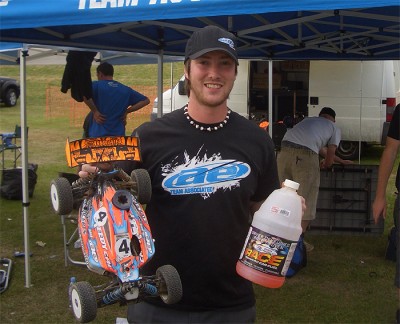 The 3rd round of the BRCA series was the annual 2 day race held over the Bank Holiday weekend.This year was the first time that the event has been held at a permanent venue and it was the Ware track that played host. Fantastic weather prevailed over the 2 days and some great racing was to be had. The big Ware track certainly provided a challenge with its high and low speed sections, coupled with the inconsistent surface which was there to catch out the unwary.
The qualifying sessions saw a 3 way battle for pole position between Neil Cragg (AE/Reedy/Proline/Byron), Darren Bloomfield (Proline) and Elliott Boots (RB/Savox).
In round 1 it was Elliott who drew first blood, using his local knowledge and great car control to good advantage to take the round win from Darren and Neil. Round 2 and it was Darren who took top honours by a second from Neil, who was starting to learn the track more, having only raced here once before. Round 3 and Neil showed his ability to learn tracks quickly by taking the round win from team mate Richard Barton who put a great run together to take 2nd with his RB powered RC8FT.
Neil was now happy to try a few things as he had 3 good scores to ensure a high grid slot in a semi final and he switched from his Proline Caliber tyres to the Revolver. He was to TQ round 4 using the Revolver but felt that although they offered better traction on the clean line, the Caliber was more forgiving when you strayed from the ultimate racing line which was all too easy to do on this track.
This TQ gave Neil a very strong position to take overall TQ as Darren would have to TQ round 5 and Neil finish lower than 23rd which was Darren's worst score. Darren did go on to TQ round 5, also using the Revolver tyres but Neil managed a 5th despite having what for him was a bad run, thus giving him overall TQ and direct passage to the main final without having to take the route of the semi's. The scores were really close and Neil and Darren were tied over the first 4 scores and it was only the 5th score that was the tie-breaker.
The day of the main finals was also bright and sunny and by the time the semi finals came around the track was starting to look a little worse for wear in places, most notably the end of the main straight, which had become very badly potholed and was to cause some problems at the beginning of the finals.
The first semi was a comfortable victory for Elliott Boots which ultimately would see him line up 2nd for the main final. The other drivers taking the transfer positions from this semi were Kevin Brunsden, Reece Sawyer, Graham Alsop, Adrian Svensson and Mike Cradock.
The second semi final was a bit closer near the front, with Darren eventually taking the win despite early an early challenge from Richard Taylor with his Reedy powered car. Darren's time wasn't quick enough to beat Elliott's so he would be grid 3 for the main final. Following Darren out of this final were Lee Martin, David Crompton, Richard Taylor, Craig Drescher and Stewart Wilcox. Paul Bradby would also bump up as the fastest 7th place with his Reedy powered RC8FT.
The main final saw Neil get a terrible start and be on the back foot from the first corner, this allowed Elliott, Darren and Lee to take up the running and fight it out. Elliott was the first to make a significant advantage and was looking good for the win until an engine cut out on track took him out of the fight. This left Darren out in front with Lee Martin stalking him. Lee had been gradually upping his pace during the weekend and was now running at the fast pace of the quickest guys and looking good.
Over the next 10 minutes Darren made a couple of errors and allowed Lee to take the lead with 5 minutes to go. Despite going after Lee very hard Darren wasn't really able to make any impression and every little bit he gained he would lose with a small error. With a couple of laps to go Lee had a roll back onto his wheels which brought Darren close up on his heels.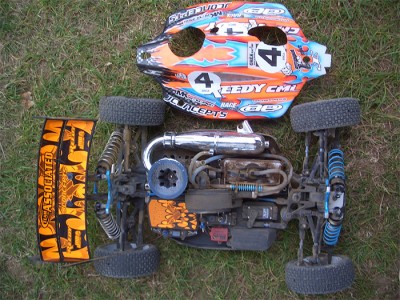 Going into the last lap there was only a second in it, but coming down the main straight Darren hit a rock which put his car on its lid and allowed Lee to cruise round the final lap to take his first 1/8th National win. Darren came through to take second with Neil recovering to 3rd.
Source: CML [cmldistribution.co.uk]
---