May 11, 2009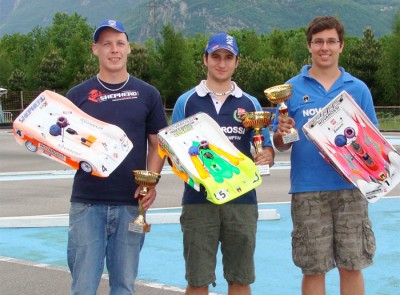 This past weekend saw the 2nd round of the Swiss 1/8th scale Championship take place in Aigle, in the French part of Switzerland, which is a nice track but very dangerous due to very little run off. On Saturday the weather wasnt so good and they only managed 2 rounds of qualifying before it started to rain. It was Motonica driver Shasa Lackner that claimed the pole position, setting a new lap record, in front of Juerg Nydegger and Luca Martinello both driving Mugen, with the final direct qualifying position going to Marco Mueller with his Shepherd.
Following the Semi finals, the main race got underway and it was winner of the semi final Mattia Pesenti with his Motonica that was on a move, working his way up to 3rd spot behind Nydegger at the 4 minute mark and then managing to pass him after the second fuel stop. After about 5 laps in 2nd, Mattia was able to catch the leader Lackner and following a quicker tire stop was able to take the lead from where he would go on to win the race from Marco Mueller in 2nd and Shasa Lackner in 3rd.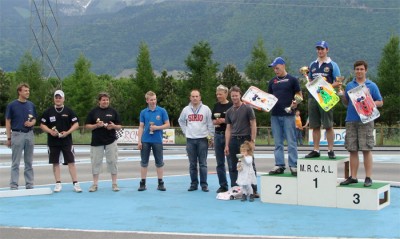 Top 3 Final EXPERT:
1. Pesenti Mattia (Motonica – Novarossi – Cosmic)
2. Mueller Marco (Shepherd – Novarossi – UFRA)
3. Lackner Shasa (Motonica – Novarossi – Enneti)
Top 3 Final AMATEUR:
1. Henzi Michael (Mugen – Max – UFRA)
2. Sengstag Raoul (Mugen – Sirio – Enneti)
3. Pacor Ender (Motonica – ?? – UFRA)
Thanks to Mattia Pesenti for the report.
---