May 9, 2009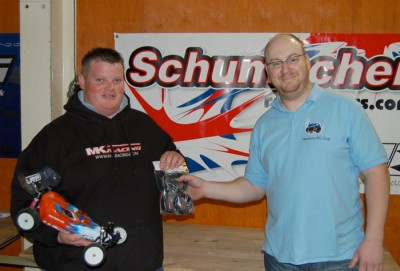 Winter was creeping up on us very quickly after a great summer outdoors a few of the Newbury RC club members put a suggestion forward for there to be some Indoor off-road racing on the Fridays the touring cars were not racing, this seemed like a great idea to the committee. With great enthusiasm Richard Saunders one of the clubs off roaders took him self off to MK-RACING to talk to Marc Knight the owner about how we could get some support in the way of prizes, after some pulling of strings Marc At MK Racing managed to get some tyres from Schumacher Racing and put in a few sets him self giving the club 12 sets of Schumacher mini pin tyres to give out as raffle prizes. The Schumacher indoor winter series was born.
The decision was made to run 12 rounds on the 2nd and 4th Fridays of each month giving 1 set of tyres out as a raffle prize per meeting, it soon became apparent that there was a need to run a few Sunday meeting because we had become so popular so we ended up running a 13 round championship using 1 Sunday meeting as a championship round we also decided to only give out 10 sets of tyres holding one set back for the 2wd and 4wd winners.
The racing was a great success with many drivers traveling over an hour to race with at the club. The tracks the club laid were very testing from high speed tracks with slippery sections to slow technical tracks where getting the jumps right were the key to winning a race but as always the Schumacher mini pin tyres did there job of giving a great feel to the car and enough grip to drive as hard as you wanted.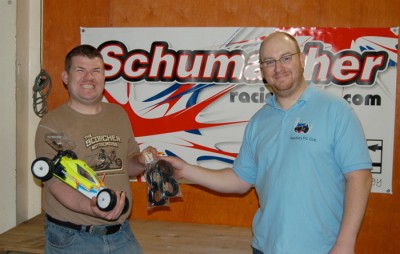 After a grueling 13 rounds of off-road racing spread over six months the championship had no clear winner in either class till the final night but after and excellent and consistent drive from Richard Saunders he was crowned 2wd champion with his x factory x6 of course running on Schumacher tyres making the car work well on the multi surface tracks we laid though out the winter. The 4wd championship was won by no other than the (mobile chicane) him self Giles Bishop, his nickname is no reflection of the standard of driver he is, Giles drove very well to take the championship with his Associated B44 4WD running on Schumacher mini spike tyres, Giles finding these tyres gave him just the right amount of movement on the carpet sections but tons of grip on the slippery sections helping him take the win.
With the championship now over Newbury RC club would like to thank all the racers who came to drive at the club and would like to express its thanks to Marc at MK-RACING for his support over the winter just gone. Thanks must also go to Schumacher Racing for their generosity.
Report by Andy Bell.
---