May 29, 2009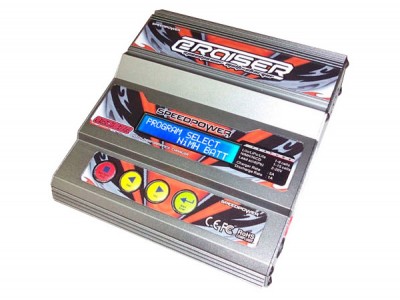 Speed Power have released their new Eraiser Multi Charger, which uses a unique individual cell voltage balancer that means when charging LiPos an external balancer is not required. Other features include delta-peak detection, fast charge mode, auto charge current limit, capacity limit, 5-slot data storage/recall, temp monitoring, cycling, LCD display, and touch pad keyboard. You can also manage your packs with a PC through the optional USB interface cable (sold separately).
The Eraiser – Multi Charger features an AUTO function that sets the current during the process of charging or discharging. Especially for Lithium batteries, it can prevent the overcharging which may lead to an explosion due to the user's incorrect setting. Eraiser – Multi Charger can disconnect the circuit automatically and alarm once detecting any malfunction.
Eraiser – Multi Charger employs an individual-cell-voltage balancer. It isn't necessary to connect an external balancer for balance charging. During the process of discharging, Eraiser – Multi Charger can monitor and balance each cell of the battery pack individually. Error messages will be indicated and the process will be ended automatically if the voltage of any single one cell is abnormal.
Eraiser – Multi Charger is adaptable to various types of Lithium batteries, such as Li-ion, Li Po and the new Li-Fe series of batteries. Fast and storage mode for lithium batteries. 'Fast' charge reduces the duration of charging, while 'Store' state can control the final voltage of your battery, to store for a long time and protect useful life time of the battery.
Source: Speed Passion [speedpassion.net]
---