May 11, 2009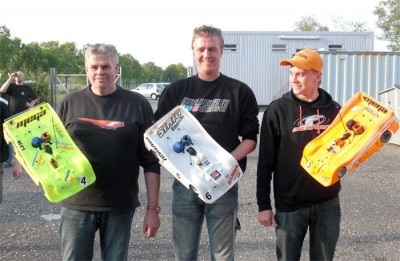 Serpent designer Michael Salven took a late TQ with 25 laps in the fourth heat at round five of the 2008/2009 Western German Championship at Hamm but the lucky end of the day was in the hands of Steven Cuypers. While Salven ran out of fuel with his Mega powered Serpent 966, Cuypers pushed his Sirio powered Mugen to a clean victory. In the 30 minutes final Cuypers did 143 laps, two more than Tobias Hepp and three more than Karl-Heinz Meister, both with a Serpent-Mega combination.
Salven and also Hepp only arrived on Sunday morning when an overnight thunderstorm had washed away the grip from Saturday's practice. It took a while to get new grip onto the tarmac of the 2007 German Nationals track so the heats got faster and faster. Salven was 4 seconds quicker than Cuypers, who himself could cover second spot in the ranking by just two tenth over Hepp. On fourth position engine guru "KHM" also made it directly into the finale while Uwe Baldes led the Motonica pack on fifth with Christian Wurst on sixth and his brother Joerg on seventh. After a long two hours lunch break which was mainly use to watch the guys with the big cars in Barcelona´s Spanish Grand Prix the 20 minutes semi final was not a lucky affair for two of the Motonica trio. Uwe Baldes had to stop with a suspension problem on his Team Orion CRF powered P81 and Christian Wurst lost his lead due to a broken rear belt. Fortunately Jörg Baldes, for the first time with a Mega ZF DS-III power plant, came through and jumped into the finale with a fine win. Also Ralf Vahrenkamp, Ingo Odenthal, Tom Schäfler, Reinhard Zick and Emil Kostadinov joined the finale grid.
At the beginning it looked like it could be a clear victory for Salven but things turned to the worse later. Cupyers had a trouble free run like Bad Breisig winner Hepp while Meister struggled with a bad clutch. Salven finally came in on fourth in front of Vahrenkamp and Schäfler. Odenthal had to retire with a broken front belt while Jörg Baldes heavy crashed caused by a mechanical problem. Even his race was short he did the third fastest lap of the finale by 12.00 seconds behind Salven (12.77) and Cupyers (11,84).
Result: Top 10 of class 1
1. Steven Cuypers, 143 laps – Mugen / Sirio / Enneti
2. Tobias Hepp, 141 – Serpent / Mega / Xceed
3. Karl-Heinz Meister, 140 – Serpent / Mega / Xceed
4. Michael Salven, 138 – Serpent / Mega / Xceed
5. Ralf Vahrenkamp, 132 – Serpent / Novarossi / Xceed
6. Tom Schäfler, 118 – Mugen / GRP / RPM
7. Ingo Odenthal, 58 – Serpent / JP / Xceed
8. Joerg Baldes, 20 – Motonica / Mega / Xceed
9. Emil Kostadinov – Mugen / Ninja / GRP
10. Reinhard Zick – Mugen / Novarossi / RPM
Statistics about the finalists: On the chassis side Serpent led by five cars with four Mugen and one Motonica. Four Mega engines were joined by two Novarossi and each one JP, Sirio, Ninja and GRP. Six of the finale racers run on Xceed tyres (Italy version), two on RPM and each one on GRP and Enneti.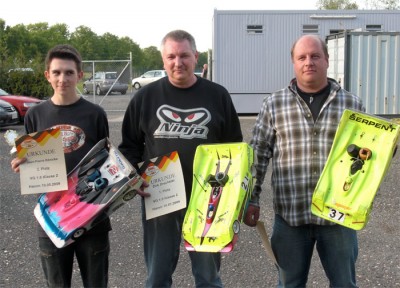 In class two it was Dirk Drechsler racing with his Mugen to victory with a four lap advantage over local hero Thomas Krautwald and Jean-Pierre Rönicke. Pole-sitter Arno Puepke lost his lead and also his chance to catch his second win following Bad Breisig when his engine flamed out suddenly. Arno Puepke, father of EC-B 1/10 finalist Rene Puepke, had to be satisfied with fourth.
Result: Top 10 of class 2
1. Dirk Drechsler, 130 laps – Mugen / GRP / RPM
2. Thomas Krautwald, 126 – Serpent / RB / Xceed
3. Jean-Pierre Rönicke, 125 – Kyosho / Novarossi
4. Arno Puepke, 119 – Mugen / Novarossi / RPM
5. Heinz Faigle, 110 – Mugen / Novarossi
6. Fabian Billstein, 95 – Mugen / Rex
7. Jürgen Lehmann, 77 – Mugen / Mega
8. Holger Schluss, 51 – Kyosho / MAX-Mega / Enneti
9. Heinrich Wenner, 49 – Serpent / Mega / Xceed
10. Udo Tappertzhofen, 47 – Kyosho / Team Orion / Matrix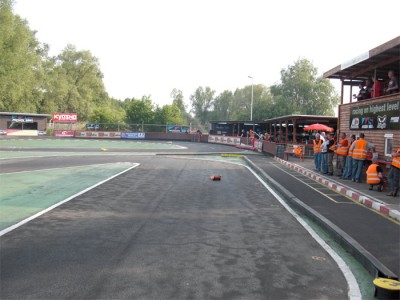 ---