May 9, 2009

Here we have this weeks round up of product releases and race reports from our site sponsors Xray. Our summary includes everything published by the Slovakian manufacturer on their own website in the past week, so if you didn't find the time to visit, be sure to read on.
Product news
New XRAY Authentic Stylish Lady Polo Shirt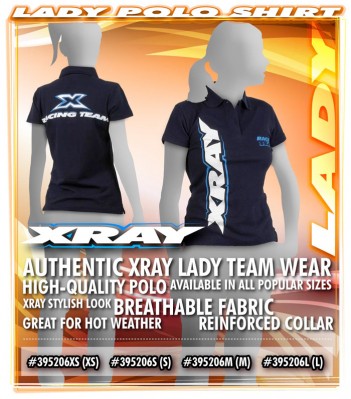 Race Reports
XB808 Double Win at RC Pro-Series South Division R1
This past weekend was Round 1 of the South Division RC Pro-Series held at N-Control Raceway in Austin, TX. Continue reading…
XB808 Wins Israeli Super League R5
The fifth race of the Israel Super League took place at "Top Drive" race track. The track is very tight and bumpy, and there is a lot of action between cars. Continue reading…
XB808 Wins Invitational Buggy Race at M.M.O.R.C. Kordin Track
On Saturday March 28, 2009 an invitational race for the buggy class was held at the M.M.O.R.C. Kordin track in Malta. Continue reading…
XRAY NT1 Dominates EU Championship '09
The 2009 Nitro Touring Cars European Championship "B" was held at a very nice track the first weekend of May in Aigen which is in northern Austria. Continue reading…
All these stories and more can be found by visiting the Xray site here.
---