June 29, 2009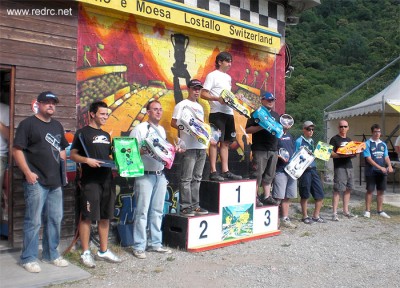 The warm up race for this years big event, the 1/8th scale World Championships in Lostallo, Switzerland, took place at the weekend and was attended by a lot of big names, with racers coming from as far away as Japan and America, along with the usual batch of super quick European racers. Qualifying went the way of Bumod GP winner Robert Pietsch, who was 3 seconds clear of Mugen team mates Andrea Pirani in 2nd and Alberto Picco, another 3 seconds back, in 3rd, with Kyosho team driver Takaaki Shimo from Japan taking the last direct final spot in 4th. The Semi finals saw Andrea Cristiani win his race while in the other Semi it was Patrick Schäfer who was gifted the win after actual winner Daniele Ielasi was DQ'd due to an underweight car and Marc Vanni who finished 2nd was also DQ'd because the body was too high. This allowed Salven and Tironi to be able to bump up along with Cristiani, Bertin, Green and Schäfer, to join the top 4 in the one hour long final. In the race, Michael Salven was the first to hit problems, breaking his engine at the first corner, he would later rejoin with a newly installed motor, while Andrea Pirani would also break an engine after 14 minutes putting him out of the race. Meanwhile up front it was Pietsch leading but a very quick Alberto Picco was closing and when Robert's motor flamed out the Italian could clear away out front, followed by Shimo in 2nd, while Mark Green would work his way up to 3rd and stay there till the end of the race. And that was how it would finish with Alberto Picco winning from Takaaki Shimo in 2nd and Mark Green in 3rd.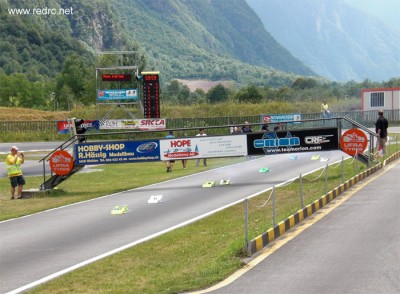 Final results
1. Picco Alberto (IT) – 169 Laps in 1:00:03.485
2. Shimo Takaaki (JP) – 169 Laps in 1:00:19.478
3. Green Mark (GB) – 167 Laps in 1:00:00.494
4. Cristiani Andrea (IT) – 166 Laps in 1:00:16.831
5. Francesco Tironi (IT) – 165 Laps in 1:00:08.710
6. Schäfer Patrick (DE) – 163 Laps in 1:00:10.547
7. Pietsch Robert (DE) – 162 Laps in 59:54.987
8. Bertin Adrien (FR) – 135 Laps in 48:38.203
9. Salven Michael (NL) – 71 Laps in 33:13.269
10. Pirani Andrea (IT) – 41 Laps in 14:26.581
Full event results can be found here.
Thanks to Sabrina Lechner for the report and photos.
---